Whether you are a seasoned camper or are new to RV living, upgrading your RV is never a bad idea.
You will be spending many days, weeks, or even months in your mobile home – with these tips, it'll start to feel more like home.
Since there are so many different ways to upgrade your RV, we will discuss three main upgrading topics.
Below you will find 22 ideas for making your RV more efficient, more comfortable, and organized.
The great thing about these tips is that even if you do one or two, it will still make a big difference in your living space. Let's take a look.
Ideas To Make Your RV More Energy Efficient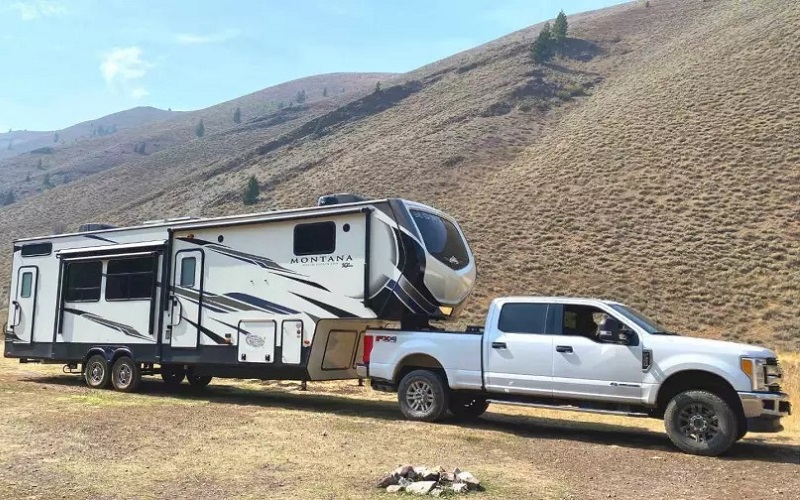 The reasons for upgrading your RV to be more energy efficient are twofold: you will be lowering your carbon footprint and saving money.
When you use more heat or electricity than you need to, you use fossil fuels and contribute to global warming issues.
Furthermore, if you increase your RVs efficiency, you will be saving money on electricity and heating bills.
Update Your Insulation
The number one reason you could experience heat loss is that your insulation needs to be updated. Consider taking a few hours to check all of the insulation.
Take a look at the list below to see what this could include.
Window and door caulking
Window and door weather stripping
Thermal window curtains
Energy-efficient door
Reflective insulation for windows
Plastic insulating film for windows
Wall insulation (fiberglass, spray foam, rigid foam)
You do not need all of these, of course, but it'll be worth installing or updating some of these things for your RV.
You will be surprised at the difference that quality insulation can make.
Install / Update Your RV Skirting
The RV skirting is what retains heat below the body of the RV. Adding RV skirting is like adding another layer of insulation to your RV.
It will help keep the hot air in your RV in the winter months and lower the amount of hot air escaping. In the summer months, it will retain cool air.
Install Double-Glazed Windows
If you have a newer RV, you probably already have double-glazed windows. However, many older RVs only have single-pane windows. Double glazed windows will add another layer of insulation to your RV.
The windows will prevent the hot or cool air (depending on the month) from escaping through the window. They will not only increase energy efficiency but will lower your heating or A/C cost.
Double glazed windows can be expensive. If you do not want to put the money in to buy new ones, you can always consider DIYing your own windows.
I wouldn't recommend this for a beginner DIYer, but if you have experience with a variety of different projects, making your own windows will not be a problem.
Use Vent Covers in the Winter/Cooler Temperatures
If you are a regular winter camper, I would consider buying some vent covers as part of your RV upgrades.
It will be easy for cold air to enter your RV through the vents during the cool seasons. Covering some of the main vents will help to retain heat.
You can even do this during the cold summer nights. However, keep in mind not to block all airflow; your RV still needs ventilation!
Install Low Energy LED Lights
If you want to save on your electricity costs, consider replacing all incandescent lights with low-energy LED lights.
LED lightbulbs are very high in efficiency. In fact, they use 75% less energy than regular incandescent lights do.
Many people associate LED lights with bright, white light. If you want your RV to still feel warm and comfortable, don't worry. You can buy warm-looking LED lights!
Only Purchase Energy-Efficient Appliances When It's Time To Upgrade
It is completely understandable if you do not want to replace your entire set of RV appliances.
That would break anybody's wallet. However, you can be intentional about buying energy-efficient appliances when you need to replace certain machines.
There are many ultra-efficient options when it comes to appliances. When buying a new fridge or stove, for instance, do a little research. Find out what the energy rating is and if it runs on propane or electricity.
Update or Install Water Line Insulation
If you are an avid winter camper, an RV upgrade that will make a big difference is insulating your water lines.
Your water will heat up much faster if you insulate the pipes, saving money in the end. Insulating the water lines will be simple. Simply use pipe wrap or insulation tape for the line.
Ideas To Make Your RV More Comfortable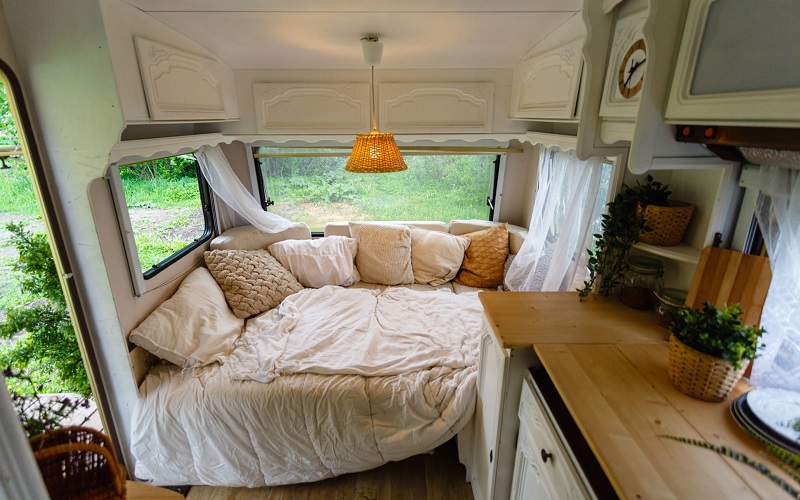 Just because your RV is energy efficient does not mean it can't be comfortable. The whole purpose of camping is to relax – how can you relax if your RV isn't as cozy as it can be?
There are many ways to increase the level of comfort in your RV, so let's take a look.
Buy Some Cozy Rugs
Many RVs have hard flooring that can be cold for your feet. The hard floor will also take away from the comfort level. If you want your space to feel a bit cozier, buy some soft area rugs for a few spots.
This hack will be one of the cheaper RV upgrades that will make a big difference.
Use a Mattress Topper or Bring Your Mattress From Home
One of the most uncomfortable things about RVs is the mattress. The moment you lie down, it feels as if you are sleeping on a rock.
To make the most of your RV upgrades, consider buying a mattress topper or bring a mattress from home.
Your quality of sleep has a lot of impact on how the rest of your day goes. Set your trip up for success, and make sure your bed is comfortable. Consider buying heated blankets as well for the cold nights.
Hang Some Pictures or Art Pieces
Have any extra family pictures lying around? An old painting that you store in the attic? Take some photos out of storage and hang them on the wall of your RV.
This easy upgrade project will probably take ten minutes of your time but will have lasting effects. The next time you go on a road trip, you will still feel close to home.
Hang LED String Lights in the Camper
An easy way to warm up the atmosphere is to hang LED string lights inside of the RV. Many people love to hang them around the windows or doors or on the perimeter of the ceiling.
You can get these lights in yellow, which will cast a lovely amber hue on your living space.
These lights are not only for the inside. You can also hang them on your RV awning to create a comfortable outdoor chill-zone.
Buy an Ottoman for the Living Room/Area
Many times, RVs don't feel comfortable since the living areas do not resemble your home at all. An easy way to make the RV feel a little bit homier is to add an ottoman.
There are lots of stores that you can buy small to medium-sized ottomans that will fit the space perfectly. If you get a smaller ottoman, it will not make the area feel tighter.
Install Curtains
Many RVs come with valances that are not the most fashionable. They are also a trademark of an RV, so it reminds you that you are far from home when you see them. Add curtains to your RV upgrades shopping list.
Installing curtains will not only help with insulation purposes, but they will make the space feel more personal. You can also buy brighter colored curtains like yellow, white, or beige to brighten the interior.
Add Some Throw Pillows and Blankets
Some RV couches are not the most comfortable to lounge on. An easy fix is to add some soft throw pillows and blankets to cuddle up with. A great thing about these accessories is that you can play with the colors to accent the interior well.
If your couch is particularly uncomfortable, buy a thick blanket and lay it down on the couch to sit on. You can even tuck in the ends so it won't move as people come and go.
Ideas To Organize Space in Your RV Better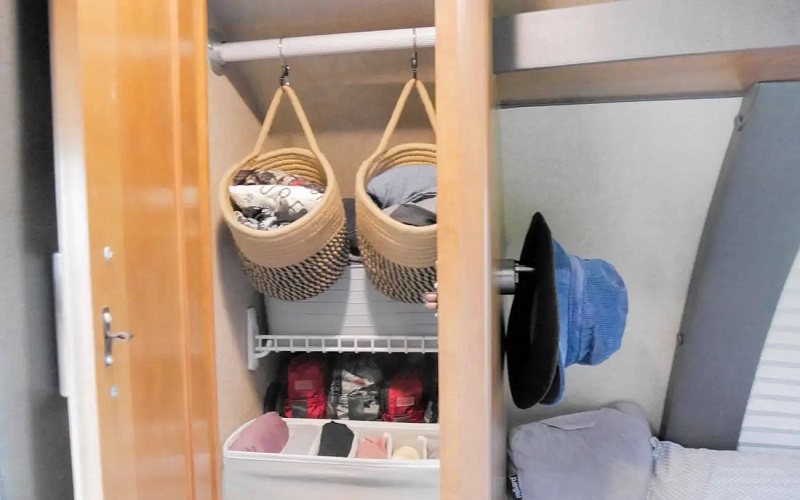 Now that your RV is energy efficient and comfortable, it is time to organize the space better.
Since RVs are not the most spacious, you have to be careful of how you store and organize your belongings. Below will be a few tips on how to take advantage of the space.
Use Over and Under-Cabinet Holders/Dispensers
A great gadget to add to your RV upgrades is an under-cabinet paper plate dispenser if you use paper plates. With this dispenser, you can clear some cupboard space to store other items.
Some other over-the-cabinet-door items will be a hanging trash can or towel racks for the bathroom door. Instead of storing some items on shelves, use hooks and racks to hang them up.
Install Shelves in the Cabinets
Many RVs come with a good amount of cupboard space, but there are no shelves to stack items. Consider buying some lightweight shelves to install in the cupboards.
This way, instead of having one large shelf, you can have three smaller shelves. You will be able to easily store dishes on one shelf and food items on the others.
Use a Hanging Shelf for More Closet Space
Sometimes there is not enough space for all of your clothes if you have more than one or two people. Leaving your suitcase out will take up too much room, so buy a hanging closet to add more closet space.
You can buy these just about anywhere, and they will not take up a lot of room. Store it in the master bedroom to keep it out of the way.
Use a Fruit Hammock
Fruit is an essential RV grocery item. However, they can be a pain to store since they are so bulky. Buy a hanging fruit hammock to store the fruit above the counter.
This way, you can keep bulky fruit like bananas and apples off the counter to look more clean and organized.
Install Wall-Mounted Magnetic Strips
Some items are difficult to store since they take up so much drawer space. Install wall-mounted magnetic strips near the kitchen area to hang your knives.
You can also use magnetic strips to store all of your spices if you keep them in small metal containers.
Buy an Over the Sink Shelf
Instead of keeping your dish soap, rags, and sponges askew on the counter, buy a plastic or metal shelf that fits over the sink. The shelf will clear up counter space and prevent water from running down the counter.
The shelf sits right above the sink, so any water from the dish sponge will drain into the sink.
Install Mason Jars to the Ceiling To Store Small Items
If you want to have some DIY fun, take some old mason jars and screw the lids into the ceiling. Put some small food items like granola or smarties in the mason jar.
Then, twist the jar into the lid. Install these jars near the kitchen area to have easy access.
Use a Paper Towel Holder To Store Your Garbage Bags
Garbage bags are essential for RV living, but the boxes they come in are always bulky. Buy a paper towel holder, install it on the wall and store the garbage bags on there.
It will not only be easier to grab them, but you will have extra space in the cupboard.
Conclusion
There are many different RV upgrades you can do to improve your quality of living. To start out, improve the RV's energy efficiency by updating the insulation, installing double-glazed windows, and installing thermal curtains.
To make your RV more comfortable, consider adding some area rugs, pictures or pieces of art, and an ottoman.
The last thing on your RV upgrades list should be to organize your RV space.
You can do this by installing light-weight shelves in the cupboards, using over and under-the-cabinet holders, and purchasing a hanging shelf for more closet space.
Resources: