One of the best things about owning an RV is having the freedom to go just about anywhere you want, as long as it's accessible by road. Although you can drive your motor home wherever you fancy, that doesn't always mean you can park there, which opens up a lot of questions regarding where you can.
If you own an RV, you're probably already well versed in the rules and regulations surrounding where you can keep it, and if you're still unsure, it pays to educate yourself. There are serious fines that come with parking an RV illegally, and it gives a bad name to the rest of us who do our best to stick to the rules.
So, where can I park my RV in the US legally? The best place to park your RV is in a designated RV camp, which could include national and state parks, when available. Otherwise, look for areas like public lots and transit centers that allow you to park your vehicle overnight without causing a disruption.
As you go along on your travels, you'll learn more about what's allowed and what isn't when it comes to finding a parking spot. Until then, we've covered some of the basics of the laws and rules surrounding RV parking, so you can do your best to stick to them.
The Laws of Parking an RV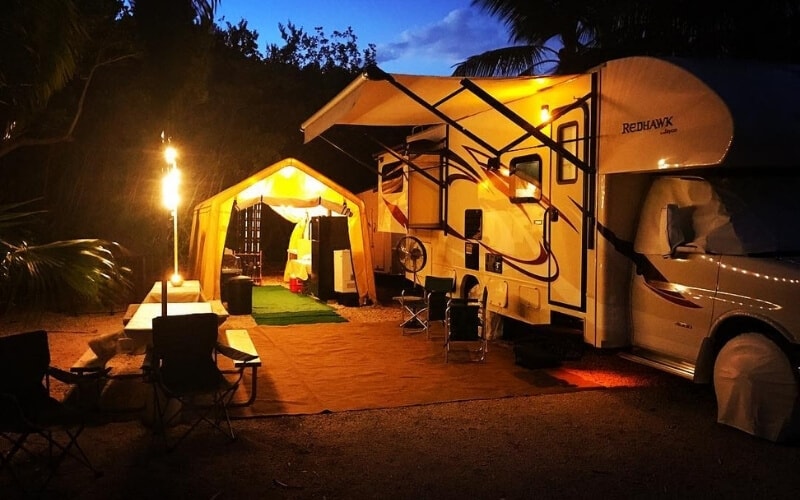 Any responsible RV driver would familiarize themselves with the laws and rules of parking before they set off on an adventure. With this knowledge, you can ensure you're not going to get any fines, stay somewhere comfortable and safe, and not be a bother or disruption to those around you.
In the United States, there are certain laws regarding RV use, and more specifically, where you can and cannot park them. Each state has its laws they follow, with some more strict than others, so it's ideal to educate yourself on the rules that a state adheres to before you visit. It's worth it to consult the Department of Transportation in the city you're visiting as well, as there may be further local guidelines to note.
In most cities, RV parking regulations prohibit anyone from parking a recreational vehicle on a residential street. This means you won't be able to pull up anywhere and park for the night, so you'll have to be smarter about where you go. Some states and cities, including Montana, allow you to park an RV in the driveway or even the backyard, so long as you're not obstructing the sidewalk or neighboring driveways, so there is some leeway.
Cities that do allow parking on residential streets usually do so with a permit allowance. This means you'll have to apply for a temporary permit to park your RV on the street, with a maximum number of days allowed each year. In the city of San Diego, this costs around a dollar a day, and you'll be able to park for 72 days in a calendar year.
Where Can You Park Your RV?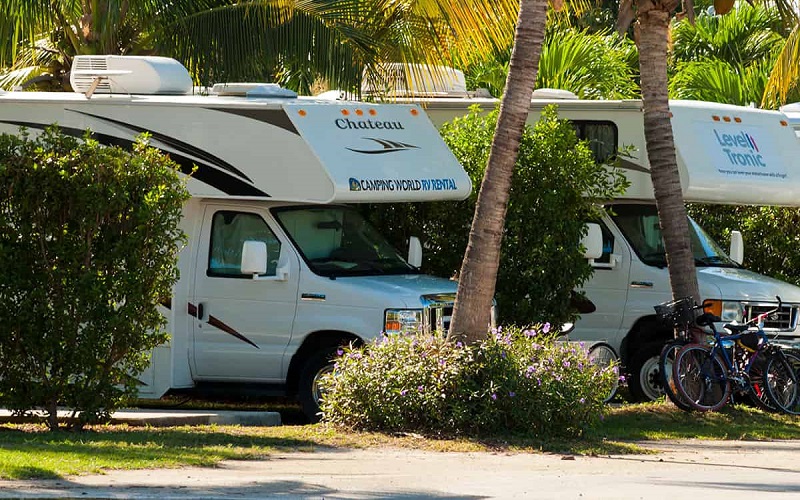 As well as being versed in the laws against RV parking, it's good to know where you can pull in for a night without the worry of being chased by local law enforcement. As each state and city differ, it's on you as a responsible motor home driver to learn the best places to park where you're visiting.
One of the most important definitions to make yourself aware of is the difference between RV camping and RV parking. RV camping refers to spending multiple nights in one location, whereas RV parking is only spending a single night. RV parking is allowed in many public spaces, provided it doesn't specify otherwise, but you are more limited when it comes to long-term camping with your vehicle.
If you're on the road and haven't yet reached your destination, there are some handy resources you can use to find out if your planned overnight spot is legal. There are guides to campgrounds, Google Maps, as well as the websites of state and national parks. A quick search online will usually tell you everything you need to know, as well as the local laws regarding RV parking.
The Best Legal Spots for RV Parking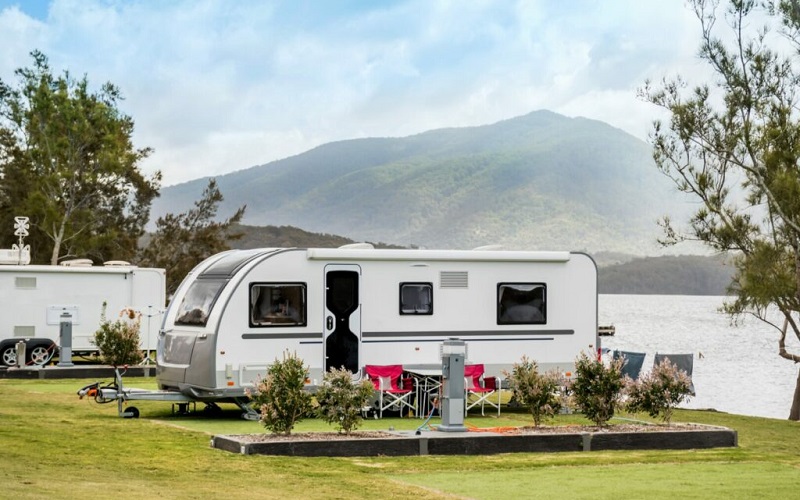 One of the greatest things about owning an RV in the United States is the sheer volume of places you can travel to. Within each state and city, there is a huge variety of parking options for your motor home, and they range in price from completely free to just a small nightly fee.
Casinos
Many casinos in the US have facilities available for RVs to camp, and it can be a fun place to stop on your trip. Check ahead with the casino to find out what rules are in place for RV camping and be sure to follow them.
Walmart
The national chain store allows RV parking at most of its locations, with a limit of 24 hours for a stay. You won't be able to use any pop-outs or extensions while you park, but you'll have the convenience of the store right by you at all times.
Driveways of friends and family
Provided the area you're staying in allows for private parking of RVs, you may be able to pull up for the night in the driveway or backyard of friends and family. This practice is sometimes referred to as 'mooch docking' and is a great way to save money.
Campgrounds
There is no shortage of campgrounds dotted all across the United States, and you can choose to experience dry camping or find one with an array of hook-ups like water and electricity. These may need to be reserved in advance, so try to plan where you can.
BLM lands
Bureau of Land Management lands are found all over the country, and in most cases, you're within your rights to park or camp with an RV on them. If you're in doubt, do a quick search online, but usually, these are allowed, and sometimes up to 21 days in total.
Grasslands
When you're in a rural area, you can safely park in a grassland provided it's public property and doesn't belong to a private individual or company. Grasslands are usually vast enough to give you privacy as well if other campers are around.
Gray Areas When Parking an RV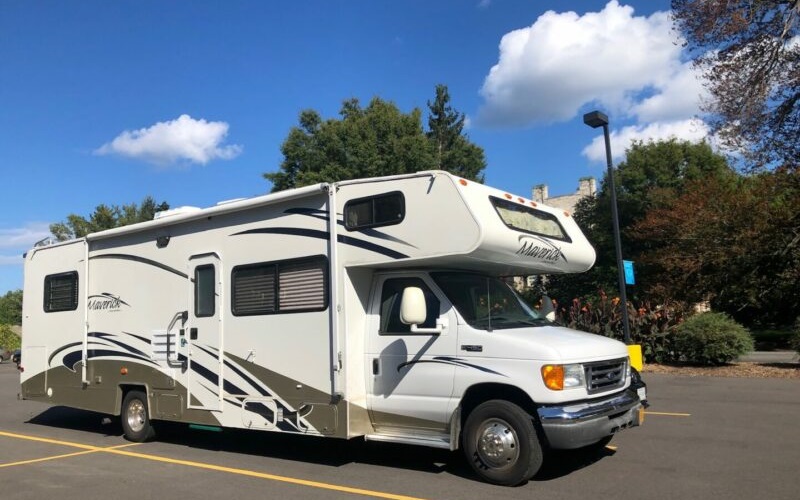 It's easy to tell most areas where RV parking is allowed, and clear enough to spot the signage when it isn't. However, some spots might be classed as gray areas for RV parking and camping, so consider these on your travels.
Private land
Any time you're considering parking on private land, you should give it a miss. The general rule with private land is that RV is not permitted, but some exceptions make this a gray area. Sometimes, private companies like Walmart allow RV parking, as do timber yards and personal homes, but unless you've been invited, you should move on to somewhere else.
Roadsides
In some areas, parking on the roadside is okay, and if you're into boondocking, it'll be your preferred location. However, parking on the roadside can be dangerous, especially at night, if the parked RV is too close to the road to give other drivers a safe passage past you.
Rest stops
Parking at a rest stop in most states is prohibited, but there are limits in place for how long you can do so if it is allowed. Colorado has a zero-night policy and you will not be able to park at their rest stops, but in Texas, you can park your RV for up to 24 hours.
Related Questions
Learning the laws of the land and understanding what is and isn't allowed with your RV is the most important step of being a recreational vehicle owner. If you're still unsure about the laws surrounding RV use, read on the see the answers to some commonly asked questions about them.
Is It Illegal to Camp in the Woods in the USA?
Most woodland areas are part of national forests and each of these has its own rules and regulations surrounding camping. Check ahead if you plan on taking an RV to a wooded area that doesn't appear to be part of a developed campground before you park for the night.
Can You Sleep in an RV While It's Driving?
While a travel trailer or camper is moving on the road, it's illegal for anyone inside of it to be sleeping or walking around, and they must stay in the primary vehicle. However, if you own a motorhome that has seat belts provided inside, you can be seated in these areas and use facilities if it is safe to do so.
Resources: