Sewer hoses are probably one of the most important setups in your RV. If you are an experienced camper, you may even have a horror story or two when sewer hoses have failed.
If you are a new camper, you are probably here to avoid being the main character of a sewer hose horror story. Whatever the reason, you have come to the right place. Buying a quality sewer hose is essential for RV living.
We will be covering the best RV sewer hose kits so that you can camp in confidence this coming season. When shopping for the best sewer hose for an RV, the best factors to look for will be a sturdy, durable hose, pre-installed fitting, and a clear elbow to make the draining process easier.
Best RV Sewer Hose Buying Guide
Winner: Camco Rhino EXTREME RV Sewer Hose
Featured Specs
The Camco Rhino EXTREME is one of the best RV sewer hose systems. This heavy-duty hose is 20 feet long and weighs 5.46 pounds.
The kit comes with two 10-foot hose assemblies with pre-attached lug and bayonet and snap-glue fittings that will securely attach to the sewer outlet.
The snap-glue fittings can easily be used again with a new hose when you replace it. You can also find storage caps for the hose ends in the kit.
The elbow is translucent, so you can tell when your sewer tank is empty. The elbow also has a 4-in-1 adapter that is easily detachable.
To store the hose, you will have to remove the 4-in-1 adapter. After you remove those, the hose can be compressed.
Benefits
The Camco sewer hose is one of the best sewer hoses for RV since it has high abrasion and crush resistance.
Since it is made with TPE technology, you will not have to be careful with it; it has high abrasion and rust resistance. TPE technology increases versatility and is a mix of strong plastic and rubber-like materials.
Due to its heavy-duty make, you will not damage the hose if you step on it (or even run it over with your car).
The product comes from Camco, a trusted manufacturer. Camco has five facilities in the United States and manufactures over 4000 products.
RhinoFlex is one of Camco's biggest brands, so you will not have to worry about quality when you purchase this hose.
Even though emptying the sewer seems like a complicated process, the Rhino hose will make it simple. The product is very user-friendly since you won't need any weights to keep the hose secure.
There is also no need for extra materials to ensure a snug fit since the hose has snap-glue fittings.
Cons
You will not be able to interchange the ends of the hose with other parts from Rhino products. The ends are glued to the product, so you would have to cut them off.
Another drawback of this product is that it is pretty bulky. If you are looking for a super-compact hose, this may not be the best option for you.
What Makes This Different From Other Products?
While many hoses from this brand come with RhinoFLEX technology, this hose has RhinoEXTREME tech.
This tech gives maximum protection against abrasion and leaks, so you won't have to worry about the hose being damaged from wear and tear.
You can also easily store the hose. Each ten-foot section will compress down to 49 inches, making it easy to store anywhere in the RV.
If you don't need a full twenty feet, you can always use the hose at a ten-foot length. The two ten-foot pieces are separate, so you have options.
Buying Advice
This is one of the best sewer hoses for 2021. Camco built this product with durability in mind. If you want a strong hose with no chance of holes, scratches, or leaks, this will be a good choice.
The hose is very heavy-duty, was designed by a well-known company, and is easy to operate.
Runner Up: Valterra EZ Coupler RV Sewer Hose
The Details
This universal sewer hose kit comes with all of the tools you need to drain your RV holding tank. The hose is 20 feet in total; there are two 10-foot-long pieces that weigh 1.94 pounds.
The kit has two options to choose from and comes with one or two attachable 10-foot hoses and a 90-degree adapter. The adapter is clear, so you can tell when your sewage tank is empty.
Another perk of the adapter is that it can fit six different sewer types and has an air-tight seal.
The Valterra hose also has pre-installed bayonet hooks and rotating fittings, so you won't have to worry about any leaks. These features also help to keep the hose flat.
This product is one of the best RV sewer hoses for 2021. It is 18 millimeters thick, is highly durable, and will not be damaged easily, making it perfect for RV life.
You won't have to have a concern about moving this hose around outside on the ground.
Best Features
This product will last for years since the thick hose is vinyl. The vinyl hose is also UV stabilized, so sun damage will not be a problem.
Furthermore, anybody can twist the bayonet attachments into place; they are easy to handle and provide a leak-free seal.
The company designed the fittings to prevent annoying kinks so you won't have to wrestle with the hose to make it a smooth, straight line.
Overall, the kit will be easy to use if you are familiar with draining holding tanks since it requires minimal assembly.
If you are looking for a kit from a reliable company, this will be a good product for you.
Valterra has been developing products for the RV industry for 40 years and is based in the United States.
Drawbacks
RV sewer hose reviews are not without mentioning some drawbacks of the product. Unlike many hoses on the market, this product does not come with caps for the ends.
People like to have caps when they are storing the hose, but you can always hook the two ends together to store this particular product. Or, you can spend some extra money and buy the caps separately.
Other Features
If storage is an important aspect for you, this kit will be one of the best RV sewer hose systems. The 10-foot hose can compress to 25 inches.
Sewer hoses can be hard to store since they are so bulky; this feature will lower the hassle of finding an ideal spot to store it.
Why You Should Buy This
Many full-time RVers use and love this hose. With its sturdy vinyl material, you will not see any tears, scratches, or leaks.
The product is easy enough to use since it requires minimal assembly – you will just have to hook it up and tighten a few parts.
If you find yourself camping in mostly warmer climates, this product will be a good choice since the hose is UV-protected. You won't have to replace the hose because of sun damage.
Best For Easy Storage: Camco 39625 Revolution RV Sewer Hose
Featured Specs
The Camco 39625 will be a reliable RV sewer hose kit for a quick hookup. The kit comes with two high-quality attachable ten-foot hoses.
Weighing 5.49 pounds, this sewer hose for RV is heavy enough to stay put but won't be a pain to handle. Since the hose is heavy-duty vinyl, you can use it in all seasons without worry.
Emptying your holding tank will be easy since the kit has a clear swivel elbow fitting with a 4-in-1 adapter.
For easy storage, the kit comes with four storage caps as well as wire guards to protect your hands.
Maneuvering the product will be easy with the pre-attached swivel fittings; they also rotate 360 degrees for ease.
Benefits
Something that makes this product ideal is its adaptable set-up. You purchase one product but have two options; you can set it up as a 10-foot hose or a 20-foot hose.
You will also not need any extra tools such as clamps to store and use the product; the kit includes everything. Finally, the product is a universal fit.
You will not need weights to keep the hose in place since the adapter can fit any standard sewer connection and will secure your hose. Unlike other heavy-duty hoses, you can detach the swivel fittings.
This way you can save money and simply buy a new hose if you need one and keep the fittings.
The company that manufactured the Camco RhinoEXTREME sewer hose also developed this one.
As mentioned above, Camco is a trusted company and always designs its products with the consumer in mind.
Any Reasons Not To Buy This?
While other RV sewer hoses can compress down to inches, each ten-foot section only compresses to two feet. While the compression is still impressive, it does not compare to other competitors on the market.
Other Features You Should Know About
When purchasing the product, you can also choose to buy a lug fitting or a wye fitting if you need it.
There is also an option to buy another 10-foot extension hose if you need even more length.
The hose has bayonet-style end fittings with a gasket to make sure there are no chances of leaks. No matter the climate you are camping in, the highly durable HTS vinyl hose won't disappoint.
Buying Advice
If you are looking for a convenient RV sewer hose kit, the Camco 39625 Revolution will not disappoint.
It is easy to use, comes with 20 feet of hose, and has detachable swivel fittings so you can reuse them. The item can easily store in a standard 4-inch square bumper.
Best For Winter Camping: Valterra RV Sewer Hose
What Are The Featured Specs?
This reliable 15-foot Valterra hose weighs 4.8 pounds and is 23 millimeters thick. This RV sewer hose kit comes with rotating fittings, making it easy to connect to the RV waste fitting.
The hose is constructed of poly to ensure that it stays steady while working with it. You won't have to worry about straightening any kinks when emptying the holding tank.
Connecting the hose will be easy with its 90-degree plastic adapter and universal fit. Additionally, the adapter is transparent, so you can easily monitor when the tank is empty.
Another great feature is that the adapter can fit 6 different sewer types.
Why This Is Different From Other Products
The bayonet attachments of this sewer hose for the RV are easy to twist. They will create a very tight fit that will prevent leaks.
If you are a fan of winter camping, this will be a great option for you; the hose can function and is flexible even in cold temperatures. The hose will be perfectly fine in temperatures down to -20.
Not only is the hose great in cold weather, but the UV-protected hose will also be fine in the sun. There will be no noticeable sun damage.
Valterra has been in the plumbing and RV industry for years now (as mentioned above) and knows a lot about making quality products for sewer systems.
Valterra designed this 15-foot hose to prevent leaks and provide reliable, hassle-free drainage.
Any Reasons Why I Shouldn't Buy This?
One small drawback of this hose is that you cannot fit it into a 4-inch bumper. Even though the hose can compress for storage, you will have to find another place to store it other than the bumper.
Another thing to keep in mind is that you can't reuse the end bayonet attachments; while this may not be a big deal for some, it is a bonus when you can save money when the hose conks out.
Extra Features
This black 15-foot sewer hose can easily compress to 57 inches for storage. It won't be hard to find a space in/on your RV to keep the hose.
Valterra designed the sewer kit with durability in mind. The fittings have a leak-proof system and they also keep the hose flat so you will not need any extra tools.
Finally, the RV sewer hose kit comes with two end caps. Whenever you are done using the hose, you can attach the end caps and store it without worrying about sanitation problems.
Why You Should Buy This
One thing you will have to keep in mind about the hose is that it is 15 feet long and does not come with extra hose length.
However, the hose can function without problems in both hot and cold weather which arguably makes it one of the best RV sewer hose kits.
If you are an all-season camper, I highly recommend this product. You will not be disappointed with the quality since Valterra specializes in the RV and plumbing industry.
High-Quality: Titan Premium RV Sewer Hose
An Overview of the Titan Hose Kit
The titan 20-foot RV sewer hose kit weighs 6.98 pounds and is highly durable. The kit comes with two TPE (very strong rubber) 10-foot black hoses that you can easily connect to your RV sewer fitting.
Like many high-quality hoses, this product has universal fittings.
The bayonet mounts have an extended grip, so it will not be a hassle to connect them. Furthermore, the RV sewer kit comes with a 5-in-1 sewer adapter with a handle.
Pros
If you love camping in all seasons, this will be a smart choice; the hose can resist extreme temperatures while avoiding weathering damage. Another helpful feature of the hose is that it is uncrushable.
If you step on the hose or even drive over it, the product will bounce back into its normal shape.
Not only can the hose resist any sort of crushing, but it is also puncture and abrasion-resistant. Since the product is so durable, it will last a long time.
Titan, the company that manufactured the product, has been in the RV industry for over 15 years now. They specialize in high-quality aftermarket accessories for RV life.
If you want to be sure that the products you are buying are sourced from quality facilities, Titan will not disappoint. Ninety-nine percent of all products come from Australian and U.S. manufacturers.
Drawbacks
One downside of this product is that it does not have a transparent adapter/elbow piece. The adapter is a milky-white color.
The color may make it difficult to tell when the holding tank is empty, and you will have to watch more carefully than with other products.
Even so, the material has just enough opacity that you will be able to see fairly well. Even though it will be more difficult, it won't be impossible to monitor the holding tank level.
Extra Features I Should Know About
A great feature of this sewer hose is that it is made with TPE material. As mentioned earlier, it is a tough rubber that can withstand a lot of outdoor elements.
The hose will be resistant to water, ultraviolet light, and even some oils and lubricants.
Finally, the sewer kit comes with secure end caps. When you store the hose, you won't have to worry about any dripping or leftover mess.
Why You Should Buy This
This will be one of the best RV sewer hose kits for all-season campers. The hose will do well in all climates and will not scratch, dent, tear, or leak easily.
You will not be disappointed with the product's quality since it comes from a well-established company specializing in RV products.
Best RV Sewer Hose FAQ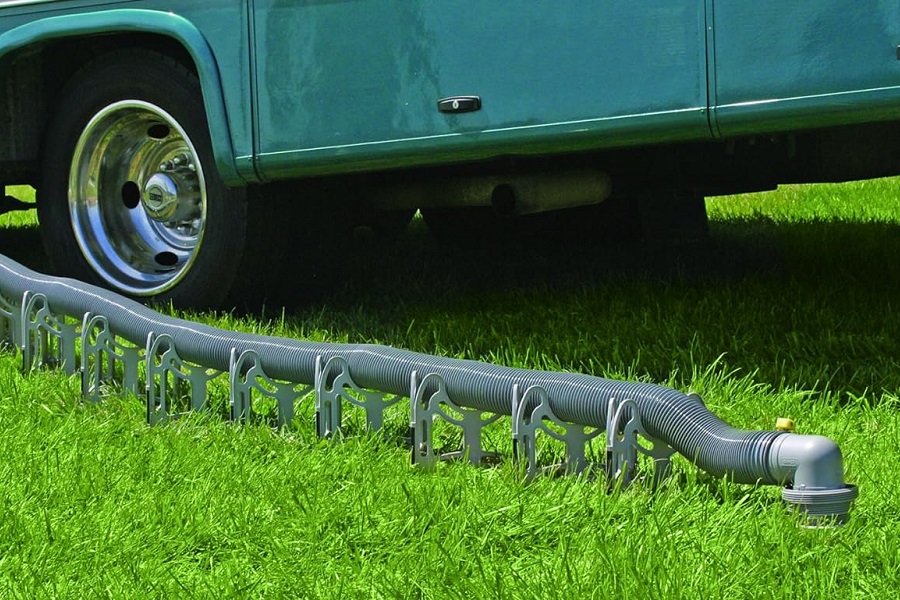 Are RV Sewer Hoses Universal?
Most RV sewer hoses you will find on the market are universal. Generally speaking, black water tanks on RVs usually take a 3-inch diameter tubing. Before purchasing a hose, measure your RV waste valve; this will help you know what hose you need to purchase.  Another thing to keep in mind is the type of connection point your RV waste valve has. Most black water tanks will take a lug fitting.
How Long Should an RV Sewer Hose Be?
The length of a sewer hose can depend on a few things, such as your RV or where you are camping. However, an RV sewer hose should usually be around 15 to 20 feet. The hose needs to stretch from the back of your RV to the sewage dump outlet. If a 15 or 20-foot hose is too short, you can always buy a 10-foot extension. 
Do You Need an RV Sewer Hose Support?
You do not need an RV sewer hose support. Nonetheless, sewer hose supports are highly recommended for any RV owner. Having a sewer hose support will make emptying your black water tank more efficient, easier, and secure. 
The reason why people invest in hose supports is that they majorly reduce the risk of clogging.
Every hose has a chance of blockage, even the most high-quality ones. If a hose clogs, you could have a big mess on your hands – a mess that nobody should ever see. What hose supports do is provide a more slanted, clear pathway for the sewer hose to rest on. This will then increase the ease of drainage and will quicken the process. 
You can also buy some sewer hose supports that keep your hose off the ground. If you want to avoid any wear and tear from the hose being on the ground, investing in an RV sewer hose support would be a good idea. 
Where Do You Store Your RV Sewer Hose?
You can store your RV sewer hose in the rear bumper storage box. Some RVs come with rear storage boxes, but you can also install one yourself. If you have a sewer hose that you can compress, it should easily fit in the box. Another option is to purchase a sewer hose carrier. You can then install the carrier under the trailer, so it is out of sight. 
Conclusion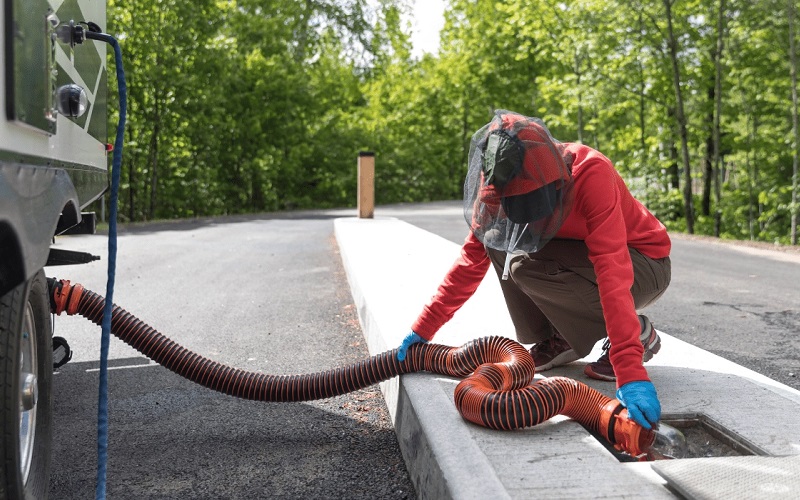 Investing in the best RV sewer hose kit is crucial for a relaxing vacation. When buying a hose, some factors you should prioritize are durability, abrasion resistance, and universal fittings.
A compressible hose will also help with storage. If you are not sure what length of hose to buy, a 20-foot hose will be the safest bet.
However, 15-foot hoses work just fine for many seasoned campers. With this RV sewer hose review, choose the best option for you and hit the road!
Resources: