When it's time to kick off the shackles of everyday life and head out on the road, you have everything you need in your trusty RV.
To keep most of it powered up, though, requires a stable and reliable battery at the ready, so it's an essential accessory that's just as important to get right as the vehicle itself.
What are the best RV battery options out there?
This depends on your RV use and whether you're camping on-site, boondocking, dry camping, or doing a little bit of both.
You'll have to determine whether you want a deep cycle or lithium battery, the size you need if you want to utilize solar, and what budget you're working with.
This isn't an RV part you want to gloss over though, so we're here to help you choose a battery that will truly deliver.
We've compiled a list of the best RV battery options with all features and purposes considered, giving you only the best options to choose from for your portable home.
Top Picks At A Glance
Our Recommendations For the Best RV Battery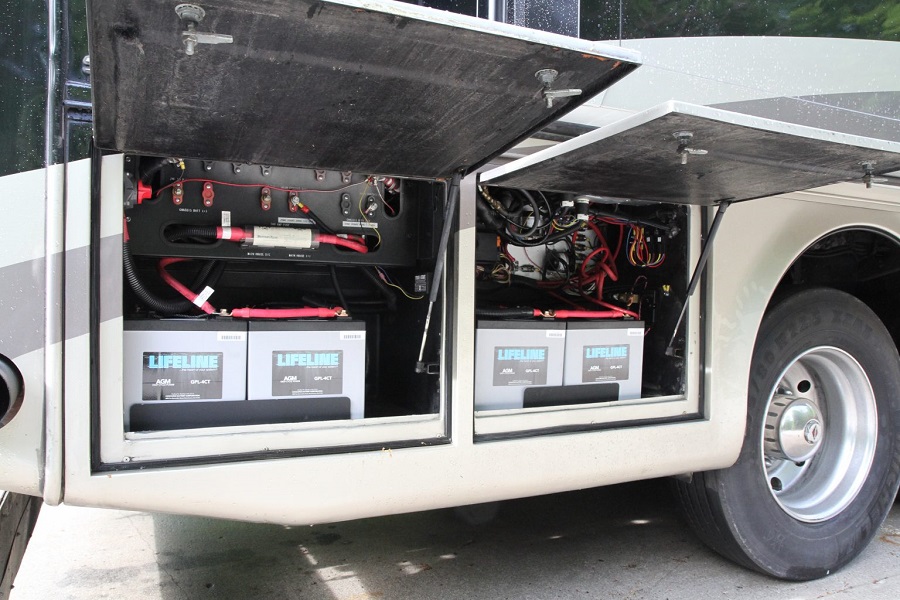 An RV battery can make or break your camping experience, so you want to make sure you're choosing one that can meet the requirements.
Whether you want the best RV battery for boondocking, dry camping, or just general use, we've got them covered, so check out our recommendations for the best in show.
Best Overall: UniverSal Power Group 12V Battery
Type: Lead-acid
Voltage: 12V
Weight: 63.93lbs
Our absolute favorite best RV battery comes from Universal Power Group with their 12V deep cycle AGM battery.
This is a lead-acid battery with 100Ah of power and enough voltage to power up your RV comfortably and easily.
The battery measures 12.17 x 6.61 x 9.16 inches so it's a decent size and can be installed in any position inside of your RV.
According to customers, the best thing about this battery was itscapabilities, with people finding they could run larger appliances like microwaves without a fuss.
If you're someone who wants to have access to it all in your RV without having to doubt your battery's power, you'll love the value for money and power that the Universal Power Group has brought to the table.
Although constantly rated the best deep cycle battery for RV, it's not recommended to be discharged too deeply, according to Universal Power Group, and customers weren't too thrilled with this disadvantage.
This is kind of a letdown and an unfortunate necessity sometimes when you're using an RV battery, so you'll have to keep it in mind on your travels.
With an overall weight of around 64lbs, it's one of the heaviest batteries we've reviewed but also one of the most durable.
This is a maintenance-free and spill proof battery for your peace of mind, and it can be mounted in any position you need it to inside or outside or your RV.
You'll need to supply the screws and brackets if you plan on storing it permanently, but these are easy enough to find online.
Universal Power Group has built this tough and it can resist vibration and shock as you drive or drag it around to be charged.
The 12v battery is compatible with solar and wind setups so you can recharge it with natural and renewable energy.
With an initial current of 15A during standby use and 30A for cyclic use it's a tough competitor for an AGM battery in this price range.
To get your hands on the Universal Power Group's 12V Battery and see what a durable and reliable battery has to offer, head to Amazon for a great price and free shipping straight to your door.
You'll be covered with a one-year limited warranty from the manufacturer, and a recommendation to replace the battery every three to five years for your safety and efficiency.
The Universal Power Group 12V is the best deep cycle battery for RV use, and easily the most reliable that we've found.
Runner Up: Optima Blue Top Battery
Type: AGM
Voltage: 12V
Weight: 43.5lbs
When toughness is the key trait you look for in an RV battery, you'll love everything about the tough Optima Blue Top Battery.
This dual-purpose device is designed to be a deep cycle and starting battery so you have both on hand while you're in your RV.
The Optima Blue Top weighs 43.5lbs and is made with dual SAE and 5/16-inch stainless steel stud posts, as well as a highly rated shock absorption factor, making it perfect for camping.
The best feature of this battery is the powerful reserve capacity that makes it helpful for people who plan on using their appliances and electronics for longer.
The reserve capacity of the Optima Blue Top Battery is 120 minutes, which means you'll get this much time of constant high-powered performance before anything needs to change.
When it comes to the best RV battery for dry camping, something like this can be a gamechanger.
However, compared to our top contenders, this battery only has a 55Ah capacity and considering it's around the same price, this is a letdown.
Although this is only one feature of an RV battery you should be looking at, it will be a deal-breaker for some, and for this cost, we believe they can do better.
This aside, there are lots of cool features worth noting on the Optima Blue Top Battery, including the 750 cold-cranking amps it provides.
Designed for marine and RV use, it's extremely durable and has optimal starting power even in the worst weather conditions.
This battery is rated fifteen times more resistant to vibration than its competitors so if you need an RV battery that can take a beating, the Optima is one to watch.
The Optima Blue Top Battery uses its patented SpiralCell technology which means it features a number of individual spiral-wound cells made with two lead plates and coated with lead oxide.
All of these work together to make this battery work harder and with more power than standard flat plate batteries, which can be very useful with an RV battery.
The Optima Blue Top Battery is a great multipurpose battery that can be used in all settings but would do particularly well for an RV owner.
Amazon has the batteries listed online as a standalone product or you can spend a little more to get the maintainer, charger, and starter battery as extras.
With the option of a 12 or 24 month limited warranty, depending on its intended use, it's good coverage for a reliable battery, and a must-have for your RV adventures.
Long-Lasting: Renogy Deep Cycle Battery
Type: AGM
Voltage: 12V
Weight: 63.9lbs
For a deep cycle AGM battery that's made to last longer than the rest, there's nothing better than the Renogy Deep Cycle Battery.
This battery features 12V of power and 100Ah capacity, with the option to upgrade to a 200Ah model for those with heavier loads.
With an overall weight of almost 64lbs and measurements of 13.1 x 6.9 x 8.6 inches, it's a decent size, but comes with two carrying handles to make matters easier.
If you're looking for a durable and long-lasting battery that can outlast the competition, this is where the Renogy comes into play.
The battery has a long shelf life and is capable of reducing the monthly self discharge rate to below three percent when working at 77 degrees Fahrenheit.
This means it's roughly five times lower than others on the market, and a lot longer lasting, without being any more costly.
This is by far the heaviest battery we've reviewed for RVs, so be prepared to put some work in when you're moving it around.
Another downside was a few reported issues of the battery not holding its charge which required a replacement.
Although this is common with batteries, some people found Renogy's customer service to be slow and frustrating, so it's not something you'd hope to deal with.
The Renogy Deep Cycle Battery does have a lot of good to offer though, including the thick AGM separators that work alongside the advanced valve regulated technology, and only the highest purity materials used in its construction.
This means no ongoing maintenance and no risk of acid leakage, so you have a reliable power source in your camper that you never have to worry about, and something better than the best lithium battery for RV options.
Other features worth mentioning including the wider temperature range that it's capable of, especially for freezing conditions when the cold drops below zero.
You can mount it anywhere, but Renogy recommends keeping it upright, otherwise, you could encounter some problems with leakage.
This battery features an electrolyte formula inside that protects it from extreme temperatures which can be helpful when you're camping in the harsher seasons.
If you want a heavy but longer living battery for your RV, the Renogy Deep Cycle AGM Battery is a solid choice.
When buying on Amazon you'll get the best online price and a choice of either the 100Ah or 200Ah model, both with free shipping and a one-year manufacturer's warranty.
This 12V deep cycle battery from Renogy ticks all of the boxes, even if their customer service is a little lacking, and will serve you and your RV well for many years to come.
Best For Budget: Odyssey PC680 Battery
Type: AGM
Voltage: 12V
Weight: 13.45lbs
If you only have minimal power needs but still want something reliable and well made, the Odyssey PC680 could be right up your alley.
This 12V AMG/lead-acid battery weighs just over 14lbs and measures 7.15 x 3 x 6.65 inches for RV owners who only need something small to stay powered up.
The PC680 offers 520 hot cranking amps at 80 degrees, so even in the hottest conditions, you'll be able to power up what you need.
The coolest thing about this battery was how fast it recharged, which can be especially helpful when you're out camping in your RV.
According to Odyssey, this battery holds the title of the highest recharge efficiency for any sealed lead battery on the market today, and that's a promise you want to take with you on the road.
Customers have vouched for its efficiency and found it to recharge faster than others they've tried which meant less time waiting to get back on the road.
There were some downsides though, including the minimal 18Amps of power it offers, making it a better choice for small applications.
This battery is credited as being a good pick for things like ATVs and snowmobiles, so although it's cheap, it might not have enough to offer the average RV owner.
If you don't mind conserving energy it should meet all of your needs, but otherwise you'll be looking to upgrade to something made specifically for the meatier needs of an RV.
The Odyssey PC680 Battery has a service life of between 3 to 10 years which is impressive in itself, and it's known as being one of the longer lasting batteries on the market today.
The cycle life of the PC680 is estimated to be 70 percent more than a traditional deep cycle battery and it's capable of up to 400 cycles at 80 percent depth of discharge, according to Odyssey.
Other noteworthy features of the Odyssey PC380 include built-in vibration resistance, thanks to its unique design, guaranteeing that it will absorbs shock from motor vibrations and general use.
You have the freedom to mount it wherever you choose, but upright is best, and it has a non-spillable design that prevents anything from leaking out even in the worst of positions.
With an impressive two-year full replacement warranty, it's better than most we've reviewed, and with their long service life, you can be guaranteed you're spending your money wisely.
Amazon has the best price online for the Odyssey PC680 Battery as well as free shipping direct to your door, so if you're in the market for a battery that recharges faster than most, it's one of the best.
Easy Connection: Mighty Max 12V Battery
Type: Sealed lead acid
Voltage: 12V
Weight: 23lbs
If you're shopping for the best 12-volt RV battery on a budget, you might want to consider this sealed lead acid rechargeable one from Mighty Max.
Their 12-volt deep cycle battery is exceptionally affordable and you can save even more money by buying a two or four-pack.
This compact battery measures 7.5 x 7.75 x 5 inches so it can fit anywhere and it weighs a total of 23lbs for your convenience.
This smaller size was a huge bonus for shoppers and it made it easier to get the Mighty Max wherever it needed to be.
Customers loved that it was easy to carry and lightweight, especially compared to other RV batteries, and it worked just as well as a first choice or backup option.
The Mighty Max is one of the best battery for solar RV options out there, thanks to its compatibility with systems like the Goal Zero Yeti.
The connection is easy and it means you can rely on natural and renewable energy from the sun while you're camping to keep your RV powered up.
On the downside, the Mighty Max has some flaws, including the carrying straps coming loose sometimes and none of the mounting equipment is included.
Other people have found that it doesn't do well with large current items which might not be ideal for all types of campers. You'll have to assess what you plan on running and then upgrade to a more serious battery if it's not going to be suitable.
There are lots of features on offer with the Mighty Max though, including compatibility with solar generators, trolling motors, ride-on mowers, and golf caddies, just to name a few.
If you're looking for a versatile battery that's not just good for RVs, this one is up there. SLA/AGM spill proof battery has deep discharge recovery which is perfect for RV use and a consistently high discharge rate.
To set up the battery, you can mount it in any position as long as it's not upside down, and it's been sealed to prevent spills.
The battery casing of the Mighty Max is built to withstand shocks and vibrations so even when you're driving with it, it'll be protected, and it can take a beating.
Mighty Max might sell their battery cheaper than others but they're still covered with a quality guarantee.
They offer free returns for the first 30 days and a full 12 months limited warranty from the manufacturer to give you peace of mind.
When you buy online at Amazon, you'll get it delivered for free as well, and for the lowest price, so it's a great way to save money but keep your RV powered up when you need it.
RV Battery FAQs
A quality RV battery is the key to a comfortable camping experience and it's the sole provider of the energy that will keep your portably home humming along.
So that you understand the importance of these batteries and how they work, we've answered a few commonly asked questions to get you started.
How Long Should RV Batteries Last?
The length of time that a battery supplies power to an RV will depend on its size, the capabilities of the battery, and what it's being used to power up.
Generally, a standard 12v battery in an RV that's running lights, a water pump, and some basic electronics like phone chargers will last between two to three days and longer with conservation.
What Size Battery Do I Need For An RV?
The size of a battery depends on the requirements of the RV and its owners, but generally, a 12V deep cycle battery is recommended, as well as a chassis battery to start the engine of the RV.
The 12V battery can provide a motorhome with enough power to run basics like lights and a water pump for a few days.
Does RV Battery Charge Driving?
Some RVs may be able to charge their battery while driving but only if they have a 7-way connector or an isolator that's attached between the RV's starting battery and their vehicle.
If you have this in place, the RV battery may get a small trickle charge while you're driving and this can be enough to keep you powered up at your next stop.
Why Is My RV Battery Draining So Fast?
The most common reason for faster than usual drainage of RV battery is a connected power source that you're not aware of.
Other times, some sources drain the battery slowly but effectively, sometimes referred to as parasitic loads, including electronic circuit boards, gas leak detectors, and lights that have been left on.
If you're confident there's nothing connected that could be draining power, there may be a fault with the battery.
Portable Power On The Road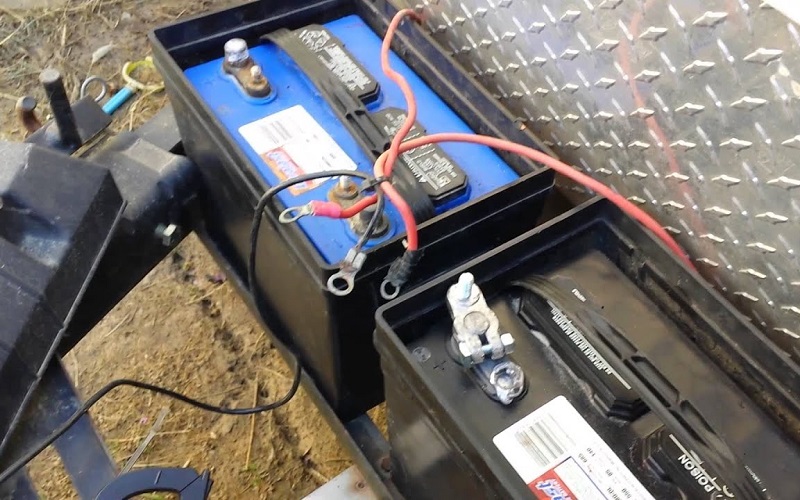 There's nothing better than knowing that your RV is equipped with everything you need to be comfortable, and having the right battery is the most important part.
Whether you get there with the best deep cycle RV battery or a lithium option, you'll want the peace of mind that it can deliver as needed and without fail.
With our recommendations, you'll have just that, and we've offered up a great selection of batteries in all shapes and sizes to suit the unique needs of RVs and their owners.
Any of these batteries can bring you peace of mind that no matter where you go or what type of RV camping you enjoy, you'll be covered.
Resources: