Finding the best RV antenna for your mobile home is easier than you think. If you aren't satisfied with the standard RV antenna, it might be time for a change.
This guide provides details of five of the best TV antennas for RVs. You will also find helpful information on the best over-the-air RV TV antenna, the best RV Wi-Fi antenna, and several others to provide you with excellent viewing when on vacation.
The FAQs section speaks about improving antenna reception, upgrading your RV TV antenna, whether aluminum foil boosts reception, and the best way to lubricate the TV antenna.
After reading this guide, you should be better positioned to choose the best RV antenna for HDTV reception and much more.
Top Picks At A Glance
Best RV Antenna On The Market
These mini-reviews cover five products based on each TV antenna's features, benefits, drawbacks, and extra features.
Examine these elements to discover the best RV antenna for HDTV reception, the best Wi-Fi antenna for RV, and other antenna types for your next vacation.
Prepare in advance for your next vacation with perfect TV viewing, no matter where you decide to set up camp.
Best Overall: Winegard RVW-395 RV Antenna
This Winegard RV antenna model is the overall winner in our Buying Guide. As the best RV antenna for your mobile home, you can expect an excellent range for picking up TV signals with the enhancement of this product's sensor.
Featured Specs
Browse through the featured specifications of this winning Winegard TV antenna with a sensor for the best RV antenna for HDTV reception. Enjoy your next outdoor vacation without interference.
Model RVW-395.
Antenna, television, satellite.
Color, white.
Maximum range, 55 miles.
The exterior is smooth.
Product Dimensions 47.6 x 15.9 x 8.5 inches
Item Weight, 9 pounds.
Folding, no.
Benefits
The benefits of this best RV satellite antenna are that you can use a regular TV service or switch to satellite television for a better quality reception when you're out in the sticks.
This antenna is easy to install on the roof of your RV.
The reception is excellent, with most channels producing a clear image even when far from 'civilization.'
This best RV TV antenna is lightweight, powder-coated for durability, solid construction, and good quality cables, and connection.
You will find that this antenna is also easy to crank up, which is yet another bonus when looking for the best RV antenna for HDTV reception.
Drawbacks
For roof mount installation only
Extra Features
The antenna enhancement means that digital TV signals increase reception. Avoid the hassle of poor TV reception with low-quality, basic RV TV antennas ever again.
You can enjoy confidence in the best RV TV antenna for all VHF and UHF programming up to a range of a minimum of 55 miles.
Prepare yourself for excellent SD and HD local best over-the-air RV TV antenna so you can watch a selection of television broadcast channels, including ABC, CBS, NBC, FOX, and many other sub-channels not available on satellite TV.
Cover included Winegard RVW-395 Sensor IV HDTV RV Antenna.
Powder-coated for long-lasting durability.
Buying Advice
This is a high-quality TV antenna that is available at a competitive price. Be aware that you may need some help in this area if you are unfamiliar with antenna installations.
Runner Up: Winegard SK-SWM3 RV Antenna
The Winegard slimline antenna is the best RV satellite antenna and is the runner because it is more expensive than the winner. But this antenna also has many more benefits than the winner, one being superior reception, which is why we like it so much.
Featured Specs
Model SK-SWM3.
Height of assembled unit: 9.75".
Width of assembled unit: 34".
Length of assembled unit: 44".
Width of mount base: 21"
Length of mount base: 24".
Unit weight: 53 pounds.
Shipping Weight: 74 pounds.
Overall product dimensions, 44 x 34 x 9.75 inches.
Reception types, SD/HD.
Benefits
best RV antenna for your mobile home.
Drawbacks
You can only use the antenna for tracking when the vehicle is stationary.
This product is quite pricy.
Extra Ffeatures
You get simultaneous reception from multiple angles, including 99, 101, and 103 degrees.
A wide span of reception enhances SD and HD programming.
Supportive of all new DIRECTV HD receivers.
It is available with a power Inserter and has a 4-way SWM Splitter and IDU with its own power supply.
The acquisition type is automatic and does not require changing the aim when in a different location.
Available with a warranty and support.
Cover included.
TRAV'LER SK-SWM3 satellite antenna, 4-way splitter, SWM power inserter.
Buying Advice
This Winegard slimline product is the RV satellite antenna when you want to relax without interruptions.
Best Over-The-Air: KING OA8500 RV Antenna
Despite appearing promising on paper, the performance of this antenna is dubious, according to one customer, which is disappointing. However, 99 percent of other customers report a good experience after purchasing this best RV TV antenna.
Featured Specs
Model OA8500.
Item weight, 2.6 pounds.
Product dimensions, 12 x 16 x 8.9 inches.
Folding, no.
Color, white or black.
Benefits
This best TV antenna for RV consists of many benefits, such as the SureLock, and signal meter shafts for a range of roof thicknesses.
The signal is long-range to increase reception and pick up more channels.
UHF and VHF signal enhancement ensures premium TV viewing.
A robust antenna rapidly picks up the most vital signals to optimize reception for broad coverage.
The product is 70 percent smaller than standard RV TV antennas.
Easy to install with compatible accessories included in packaging such as the antenna mounting plate and Jack antenna power injector.
Drawbacks
Signal amplification is absent.
Cannot access multiple channels, and performance is disappointing.
Extra Features
Warranty and support.
Jack optional mounting bracket.
Jack with signal finder.
Jack without signal finder.
Antenna pointing is rapid with a 360-degree rotation.
Design is aerodynamic and compact to reduce wind resistance.
Cover included.
Buying Advice
This may be the best TV antenna for RV for some people, but not for others. While this product is affordable and compact, its performance is questionable.
Best Replacement Head: Winegard 24130 RVW-205
Winegard makes the best RV TV antenna with a replacement head to replace your existing standard RV TV antenna for reception enhancements.
Featured Specs
Model RVW-205.
Item weight, 1.5 pounds.
Product dimensions, 47.6 x 15.6 x 2.7 inches.
White only.
Benefits
Winegard is known for its exceptional products, and you can use this replacement head to optimize your reception for Digital TV viewing.
Receives optimization of VHF/UHF digital and HD channels for a premium entertainment experience.
A cost-effective head replacement of standard antenna.
Exceptionally lightweight antenna.
Drawbacks
Some customers may find the product problematic to install.
Extra Features
Cover included.
Winegard RVW-205 Sensar IV with Wingman – replacement head.
Buying Advice
A cost-effective purchase that performs well and beats purchasing an entirely new antenna unit.
Best For Budget: KING OA8300 Jack
You can't go too far wrong with this best over-the-air RV TV antenna that is an easy solution for a current antenna that is giving you problems.
Featured Specs
Model OA8300.
Item weight, 1.5 pounds.
Product dimensions, 12 x 16 x 2 inches.
Folding, no.
Cover included.
Benefits
This is a long-range antenna signal head that captures more channels.
Installation should take no more than five minutes to upgrade a batwing antenna to the best RV antenna for HDTV reception.
Technological improvements ensure enhancements in the UHF signal, and you can still receive VHF broadcasting channels.
Drawbacks
It may be a problem to pick up clear channels during poor weather conditions.
Extra features
The package comes with universal mounting brackets and is suitable for AC to DC for RV or home use.
Warranty and support.
Buying advice
This best antenna for RV is affordable, convenient, and performs to expectations.
Things To Consider Before Buying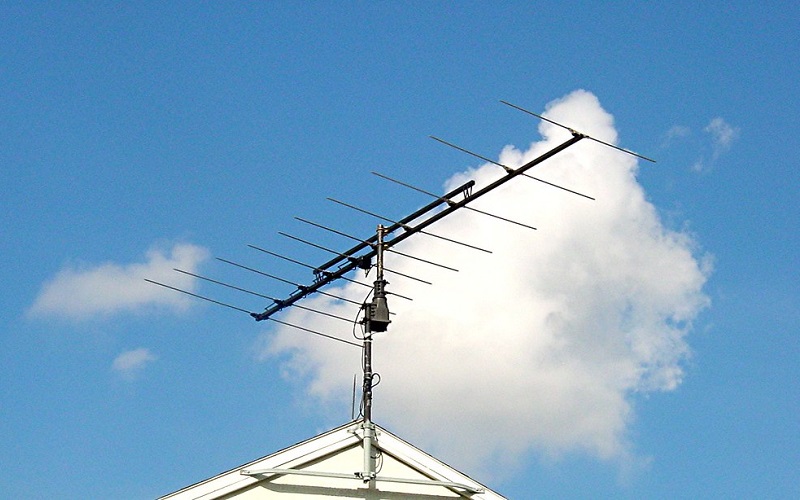 How Can I Get Better Reception On My RV TV?
You've parked your RV at a campsite, set up the basics, and go out to explore the environment. You come back to the motorhome, make an evening meal, and want to sit back, relax, and watch some television.
But you realize that the TV antenna isn't picking up any signals, or the signals are so poor that you can't watch anything. There are some quick tips that you can use to sort the antenna out, some of which are best left for the daytime.
Here are several tips to get a better signal on your RV TV antenna:
1. Raise The Antenna Higher
Getting to your RV antenna can be troublesome, and you will possibly need a ladder and lots of daylight to try this quick fix.
Sometimes raising the antenna height will give it just enough of a boost to pick up that elusive signal and solve the reception issue. Experiment with different antenna heights to resolve the problem.
2. Antenna Direction Adjustment
If adjusting the antenna height doesn't work, try adjusting the direction of the antenna. This solution is also a two-person job, with one watching the TV screen while the other person changes the antenna direction to pick up a broadcasting signal.
3. Locate The Antenna In A Different Spot
Another quick fix can be as simple as moving the antenna to another location on the RV to check if the signal improves. You may not be able to alter the location of the antenna on your RV, and if so, you may need to park the motorhome in a different spot. Choose higher ground or speak to the campsite's management for advice on the best locations to improve reception.
4. Reset The Digital Tuner
Detach the antenna cable and do a channel scan. Turn off the TV and unplug the cable. Attach the antenna cable again after a few minutes before plugging the TV back into the powerpoint. Sometimes a rescan is necessary to reconnect the antenna to different channels that may have changed or when the cache has built up too much.
5. Switch Off LED Lights And Unplug Appliances
This simple trick may improve your antenna signal by eliminating unnecessary interference.
6. Check For A Signal Finder App On Your PC
Search for an app that helps find TV signals at your location. An app is helpful to locate an optimum antenna signal around your site. Alternatively, purchase a strength meter that quickly helps you to find strong TV signals in the area.
7. Weatherproofing Antenna Cables
Weatherproofing TV antenna cables can improve reception as it helps protect the antenna from the elements. A DIY antenna job will also help you identify cable damage and faulty connections. Replace all old or damaged cables and use moistureproof tape to maintain the antenna for a better signal.
8. Use A Signal Booster
Camping in isolated areas is a beautiful idea until you cannot find a TV signal. A signal booster extends the range of reception and increases signal strength.
9. Change The TV Service
Either switch to using a satellite dish and the best RV satellite antenna for your motorhome or use cellular service. Cellular services like Roku or Chromecast are adequate, especially if you combine them with a signal booster.
10. Purchase A New Antenna
The quick solution may be to purchase the best RV TV antenna as indicated in this guide. Check the condition of the current antenna and how long you have had this equipment. It may be time to invest in the best Wi-Fi antenna for an RV and get a booster to avoid the situation of poor or no reception while on vacation.
If none of these solutions work, poor antenna reception may be attributable to bad weather or other signal blockages. Check with other people in the area whether they experience a similar problem to help isolate the problem. If other people cannot pick up good reception, then the issue is with the location.
How do I upgrade My RV Antenna?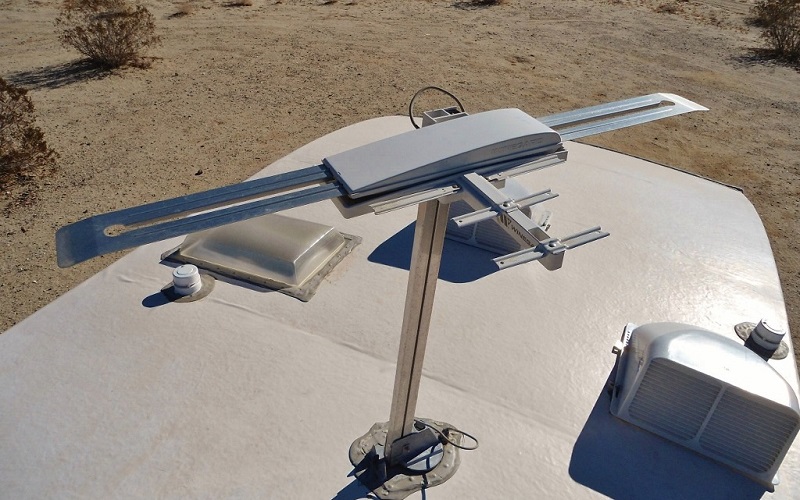 Unless you feel up to a DIY job, you might want to call an expert to install the best RV TV antenna. Until then, a few basic guidelines will aid in upgrading your new RV TV antenna.
1. Remove The Existing Antenna
You can use a scraping tool to get rid of the old sealant before accessing the mounting screws of the old antenna. Exercise caution when using the adhesive on rubber to prevent damaging the roofing. Remember to remove the antenna handle on the inside before removing the existing antenna.
2. Removing The Antenna Handle
You will probably need a set of Allen keys and a wrench to do this job. Only once you dismantle the antenna handle should you dismantle the outside antenna.
3. Remove The Antenna From The External Roof
Disconnect all loose parts such as the coax cable and cautiously remove the external antenna. If there is any putty tape on the antenna base, ensure you remove this carefully, to prevent roof damage. Again, a plastic scraping tool is an effective method to eliminate the putty tape.
4. Clean The Area Around The Antenna Installation
Before installing a new antenna, you should clean the area thoroughly. Pour some denatured alcohol onto a cleaning cloth instead of applying it directly to the rood surface, as this can damage the site.
5. Drill A Hole For A New Installation
If you are installing a new, best RV WIFI antenna or the best RV satellite antenna, you will need to select a location and drill a hole in the RV roof. If you are replacing the antenna, simply use the existing hold.
6. Follow Installation Instructions
If you have a manual, then position the antenna over the existing hole. The base plate arrow should face the RV's front. Then mark an outline around the antenna base so you know where to place the sealant to secure it to the bottom.
Make sure the adhesive dries appropriately before attaching the antenna with screws. Be careful not to cover screw holes with glue. Seal excess holes if the upgrade requires new ones.
7. Connect The Coax Cable
After securing the antenna base plate, you can connect the coax cable between the RV and the antenna.
8. Inside Installation
Insert the plastic extrusion through the hole. Line up the keys with the antenna. Push the extrusion through as far as it will go. Ensure that you can still rotate the antenna before cutting the extrusion to the proper inside length.
9. New Handle Assembly
Read the manual to find out how to secure the handle, which you can install with the assembly screws. Check the handle rotation and cranking to see whether the antenna responds correctly.
10. Wallplate And Power Connections
Secure the wall plate as per instructions and connect the 12-volt DC and coax cable connections. Use the video switch for connections when upgrading.
11. Switch The TV On
Switch on the TV and do a channel scan in antenna mode. This action should pick up HDTV and local broadcast channels. Fine-tune the antenna with handle rotation. Purchase a digital TV converter if you still have an analog TV to access all available channels.
Does Aluminum Foil Boost The Antenna Signal?
Using aluminum foil to boost your RV TV antenna signal might sound like a crazy idea. Images of aliens spring to mind when thinking about this fix, but it can work.
The reason for wrapping aluminum foil around the antenna is that this material is a conductor. A conductor can help capture wave frequencies by acting as a mirror.
If trees or mountains surround the RV's location, there can be many blockages in frequencies. Using aluminum foil as a mirror helps to reflect the frequencies, focus them on the antenna, and line it up with the transmitter.
Although using aluminum around the TV antenna doesn't always work, it is worth trying when you're desperate to pick up a signal. Wrap the aluminum foil around the TV antenna to increase its conductivity and surface area to pick up the transmitter's frequencies.
Another way wrapping aluminum foil around the antenna may work is to prevent interference from other transmitters. Both mirroring and blocking frequencies can help boost your RV TV antenna, but it doesn't always work.
It doesn't always improve, but aluminum foil is a conductor, and at radio wave frequencies, it is a good mirror. If the antenna can't see the transmitter because of blockages, the foil helps mirror the frequencies into its line of sight. Another reason: a foil can block interference from unwanted transmitters.
How do I Lubricate My RV Antenna?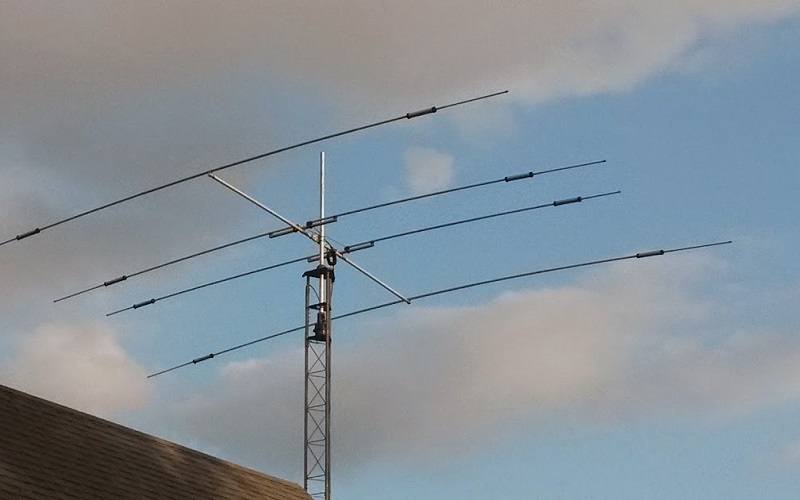 Most RVs have a Winegard TV antenna that comes standard with the motor home. The Winegard antenna is a batwing shape with a hand crank which is the best RV antenna for your mobile home.
The Winegard TV antenna consists of an O-ring rubber seal on the crankshaft. Silicone spray is the best lubricant for anything containing rubber as it may damage the rubber seals.
Do this lubricating job during dry weather to prevent the sealant from washing off and becoming useless. There are few things so frustrating than needing your RV TV antenna to work, only to find that it does not. So, only do this maintenance when the weather is dry, or the RV is parked undercover.
If you don't have a silicone sealant available, wait until you can purchase this product type. Others can destroy the rubber, allowing water to leak through the antenna connection, causing further damage.
Manufacturer instructions suggest that you lubricate the antenna twice yearly. You must climb up to the RV roof to spray the silicone sealant onto the TV antenna and crankshaft, which gives you the chance to check the condition of the seals on and around the antenna.
Conclusion
Buyer's guides are helpful when purchasing the best RV antenna for your mobile home.
These guides thoroughly research available options like the best RV over-the-air antenna, or the best RV HDTV antenna, among other possibilities. In-depth information improves purchasing decisions and provides you with the ideal TV antenna for your motor home.
If the Buying Guide isn't enough, the quick fixes for improving antenna reception, upgrades, and the antenna's maintenance should also help enhance your TV viewing on vacation. When all your efforts fail to enhance antenna reception, it may be time to purchase the best antenna for RV or find another vacation spot.
Resources: