There's nothing quite like getting into the great outdoors during the colder months and experiencing nature during the winter, but it can also come with a whole new range of perils and dangers that people just aren't prepared for.
3 Must Know Things When Winter Hiking
If you forget all else when you're hiking and camping in the winter, here are three things that you must remember:
1. Drink Water Constantly
Although you might not feel as thirsty as you do when hiking in the heat, the drier air in these conditions means you're actually a lot more dehydrated than usual.
When you're dehydrated well, your blood can flow properly, which means you're less likely to feel the cold.
2. Dress Like An Onion
Every good hiker knows this mantra when hiking during the winter, and it can literally save your life.
Layer your clothes as if you were an onion, and you can easily remove or add more as the day goes on.
3. Check The Weather
Even if you had intended to head out somewhere in the morning, you still need to know the weather conditions.
Don't risk hiking and camping in snow storms or blizzards, as you can always postpone your plans until things have cleared up.
Clothes And Equipment I Should Have For Hiking In The Winter
Your clothing choices will need to be far more in-depth than standard hiking, and you'll need to be aware of the weather conditions at your proposed destination.
Footwear: you'll need something sturdy, waterproof, insulated, and layered to ensure your feet stay warm and dry. This includes both your socks and shoes.
Hats: both a lightweight and a heavyweight wool fleece hat to suit all conditions. Just because the sun isn't blazing doesn't mean you can't be affected by the UV rays.
Gloves: regular wool gloves and a waterproof pair are essential, ensuring you have a backup for when these become damp.
Pants, jackets, etc.—windproof and waterproof varieties of each, as well as a backup for each of these items.
Insulation: extra insulation is needed for layering clothing and the base, mid, and top layers of clothing. Think extra singlets, t-shirts, full-length pants, and anything easy to remove or add on the move.
Traction aids: Depending on the conditions, you might need microspikes or snowshoes to help with footing.
Water bottle: choose something with a wide mouth so it won't freeze up, and avoid straws with these as they'll be useless in cold conditions.
Backpack and hiking essentials: the usual list includes a map, rations, compass, toilet paper, whistle, etc. Everything you would take for summer camping can be applied here.
Survival gear (gas stove, sleeping bag, tent, etc.): be sure to accommodate the colder conditions with your sleeping equipment.
What If I Want To Explore Above The Treeline?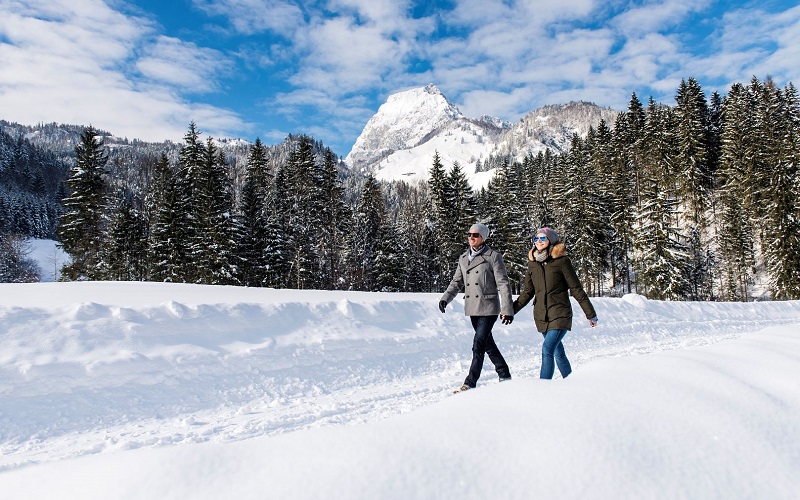 This is recommended for experienced hikers only or those who are travelling with someone experienced.
If you're thinking of going above the treeline, you should also carry with you:
Snow goggles
Ice axe
Face mask
Crampons
Avalanche shovel and beacon
If you're planning to explore above the treeline, then conditions are particularly windy and can do severe damage to an unprepared body.
Keep your face and body shielded from the wind, and have emergency supplies such as a beacon just in case.
Winter Hiking FAQ
We've answered some of your winter hiking FAQs to give you a little more information on getting outside during the winter.
How Do You Keep Your Feet Dry And Warm During Winter Hiking?
There are a few measures you can take, including insulated shoes, double-layered socks, and waterproof outer pants. Dress for the conditions you're heading into, and if you think it's going to be colder than usual, it never hurts to pack extra layers of clothing.
How Do You Stay Occupied When The Sun Sets So Early In Winter?
One of the best ways to pass the time is by watching the sunsets themselves, as these will look particularly spectacular during the winter. Otherwise, you can build a fire, do your prep for the following day, spend more time on cooking, and get some reading done while cozied up for the night.
What Are The Best US National Parks To Visit During The Winter?
The Wilderness Society listed their top 20 picks for winter, including quite a few choices in Utah. If you're lucky enough to get to the state, you can try out Arches National Park or even Bryce Canyon National Park for vastly different landscapes.
What State Has The Best Hiking And Backpacking During The Winter?
Although it's hard to choose from all of the states, particularly when you consider how amazing they look in the light of winter, the top picks would be Utah, Arizona, and Washington. Each of these looks completely different from their usual warm hiking and camping landscape, so they can't be missed.
What Type Of Backpack Should I Have For My Winter Gear?
Depending on how long you intend to venture out for, a good-sized backpack is 35–45L.
You'll need side compression straps or a shovel pocket so that you can store skis, snowshoes, and anything else bulky required for this weather.
What Can I Do When Hiking in the Winter?
Some of the benefits of hiking in the winter include being mostly alone and enjoying solitude, appreciating views that you normally can't get during the summer, and exploring new terrain and areas that you possibly couldn't reach without the help of snow and ice.
Hiking during the summer can be dangerous enough, so winter, in particular, needs extra care and attention to prepare for. Always stay updated on weather conditions before you head out and have your emergency packs ready should the worst happen. Winter hiking and camping can treat you to some of the most beautiful scenery this country has to offer, provided you stay safe and comfortable along the way.
Resources: