What better way to enjoy a hike than with your best friend by your side?
Many avid hikers prefer the company of their four-legged friends when they're on an adventure, and the dogs love it even more.
Hiking with dogs is a great way for you both to bond and receive the fresh air and exercise benefits of a strenuous trek.
However, to ensure the wellbeing of your dog and passersby on your hike, there are four things to consider the ways to keep your dog safe while hiking.
Hiking With Dogs: 4 Safety Tips
Camping with your dog can be a wonderful experience, but it comes with its own set of challenges and considerations.
We bring you 4 essential tips and precautions to ensure your furry friend stays safe and enjoys the great outdoors as much as you do.
1. Find A Dog-Friendly Trail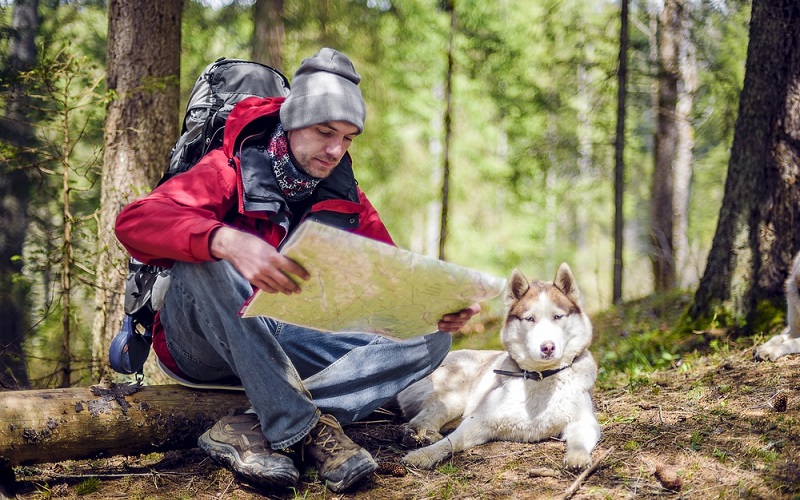 As tempting as it may be to bring your dog along on every hike, you should be aware that not every trail is going to be suitable.
Whether the terrain is too tough for your friend or there are restrictions in place on bringing animals along, you need to assess each hike separately.
Websites such as Bring Fido specialize in dog-friendly trails, and with a simple search, you can bring up the best hiking spots in your area that are suitable for dogs.
With a little forward planning, you can ensure the hike is a success for both you and your dog, as well as others who might be sharing the trail. ​
2. Keep Them Fed And Hydrated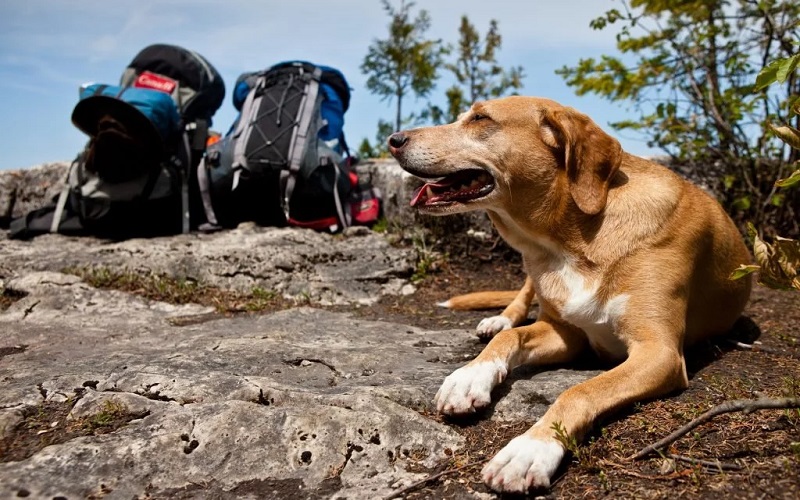 Just as you would plan for your own hydration and nutrition on a hike, you should do the same for your dog.
Consider that a dog may require more water than you, and offer them regular water stops with their own bowl twice as regularly as you need it.
Their food should also be increased to double what they would eat if they weren't on a hike to make up for the energy expenditure.
Depending on your dog's size, they may be able to carry their own food and drink with a dog pack.
Some of these feature hydration systems that allow your dog to drink as they pleases, making them ideal for strenuous hikes and hot weather.
3. Be Aware Of Their Fitness And Health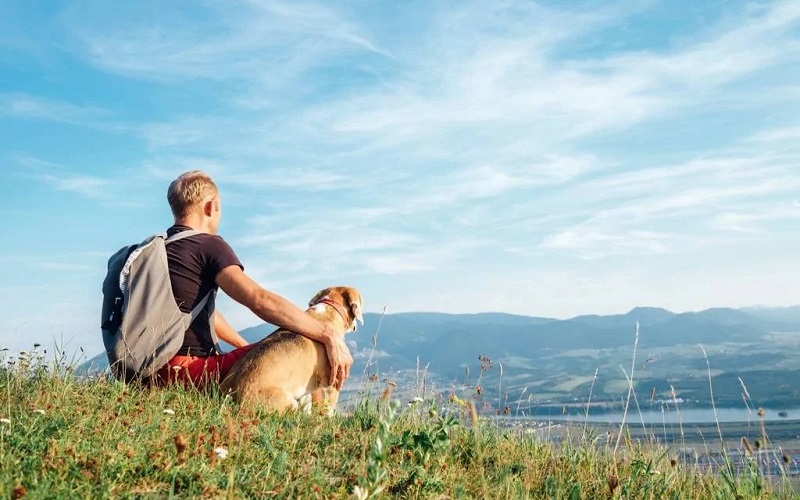 Firstly, ensure that your dog is up to the task of the hike at hand. Some dogs are older or not as fit, so it's best not to take them on steep inclines or rugged terrain. Only you will know your dog's fitness levels, so you need to assess each trail individually.
Always make sure your dog is fitted with identification, whether they're microchipped or have a collar and tag on.
Bring along a first aid kit specifically for your dog, as they can be prone to scratches and insect bites just as much as you.
4. Keep Them On A Leash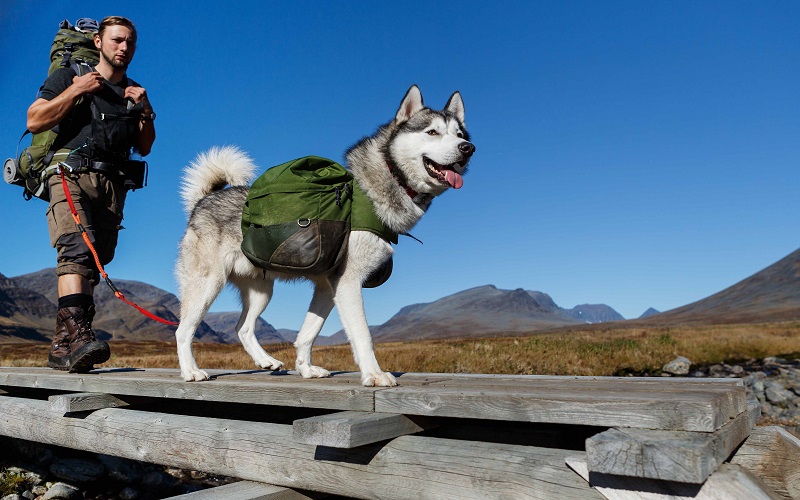 No matter how well-trained you believe your dog to be, you should always keep them on the lead. Some dogs are naturally more aggressive than others, so extra care will need to be taken when passing others on the trail.
If you believe your dog is likely to attempt to attack another, you should avoid busy hiking paths altogether.
Keeping your dog on a lead is for both your safety and theirs, and a 6–foot leash is the best length to maintain control of the situation.
A quality leash will prevent your pet from running away into dangerous situations, attacking other hikers or dogs, and chasing wildlife on your hike.
Keep in mind that while you might take the care and attention necessary to ensure your dog's safety, there may be other owners out there who are a little more lax with the precautions.
Keep your dog away from other animals on the hike so you can avoid run-ins and injuries with other pets, and stay alert to your surroundings at all times.
While it's great to have a companion on your hikes, you should always stay aware of your surroundings.
Just as you can be prone to dangers with wildlife, the environment, weather, and sanitation, so too can your four-legged friend.
Wrap-Up
As you wrap up your camping trip with your beloved canine companion, remember that a safe and enjoyable experience is a result of careful planning and responsible pet ownership.
By following the guidelines and tips we've covered in this article, you've not only ensured your dog's safety but also deepened the bond you share.
Camping with your dog is a unique opportunity to connect with nature and each other.
Cherish these moments and look forward to many more adventures in the great outdoors with your loyal camping buddy by your side.
Resources: