Are you someone who enjoys hiking as a simple pastime, but you want to get a little more serious and go on longer, more adventurous hikes?
If so, you'll probably want to start taking a hiking tent with you on your adventures.
You'll probably want to choose a lightweight hiking tent because it is light enough to carry with you on those long hikes and easy enough to set up in case you get caught in a rainstorm and don't want to get wet.
With that said, we're sure that if you went looking at the vast array of hiking tents or just comparing hammocks vs. tents, you might be a little overwhelmed by all the choices available.
Well, that's where we come in. We are happy to give you a brief rundown of what you might want to look for when you're trying to choose the best hiking tent for your personal needs.
So without further ado, let's get started!
The Different Categories Of Hiking Tents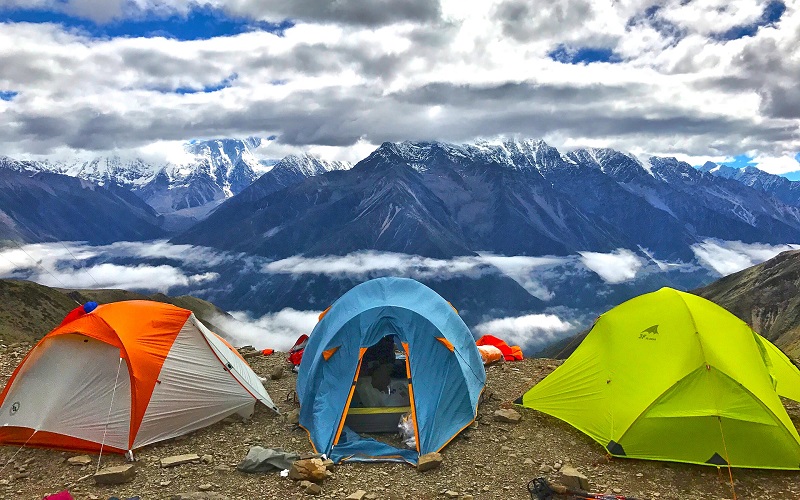 First of all, there are many different tents available to choose from. Tents for hiking fall into one of five different categories, as described by BackPacker.com:
Summer/Screen: These tents are designed to give the user maximum air circulation and offer protection from bugs during the summer months. Good tents that have strong posts and zippers should be able to handle the gentle summer breeze and the rougher thunderstorms. These tents feature mesh to help allow the air to flow freely.
Three-Season: These tents are designed to be used from spring to fall, and they are typically able to handle all sorts of weather except for snow. The walls of these tents feature a good combination of mesh and ventilation to give you a good blend of air circulation and protection from bugs and the elements.
Convertible: These tents are great for people who go hiking in all types of weather. They feature a hybrid design that uses a pole, vestibule, and rainfly options. These features let you strip it down to the bare bones during summertime, but you can also baton down the hatches, so to speak, for the cooler trips. The walls have mesh windows accompanied by a nylon panel that can be zipped into place to really block out the weather. The only downside is that these hiking tents tend to be heavier.
Mountaineering/Winter: These tents use sturdy poles to withstand the harshest weather. They tend to have a low dome shape to help shelter you from the wind, as well as a large vestibule so you can keep your gear close and protected.
Tarps: For the hobbyist hiker, a tarp tent is the perfect lightweight hiking tent to carry if you don't plan on going anywhere far or you need a quick bit of shelter if you're caught in the rain. The tarps can be tied to trees, roots, boulders, or poles, but because they do need to be tied, it's a good idea that you hone your knot-tying skills, lest your tent blow away with a gust of wind.
What Type Of Material Makes For The Best Hiking Tent?
Outdoor Gear Lab discusses several different materials to choose from when choosing a hiking tent, including:
Polyurethane-coated fabrics: This type of material is a great option for people on a budget because it is a cost-effective way to ensure you're protected from the rain. It also has a reasonable amount of durability to withstand conditions that are wet and cold. You should be aware that over time, tents with this material can experience a chemical breakdown, thus destroying the coating that makes them less weather-resistant.
SilNylon: Hiking tents with this kind of material are perfect for the serious hiker. The material is highly water-resistant, elastic, UV-resistant, and temperature-stable. It is lightweight, strong, and much more durable than polyurethane tents. The downside of tents made of this material is that should you get any tears in the tent, you will have to sew patch the hole or bond them with silicone because adhesive tapes will not stick to the SilNylon.
Cuben Fibre: This type of material is considered to be the lightest, strongest, and most water-resistant material on the market. Hikers who use tents made of this material Unlike the SilNylon tent, it can be fixed with adhesives, and it won't absorb water, so it won't weigh the tent down. Perhaps the largest drawback is that it is four times as costly as SilNylon, and it is less heat resistant, meaning if you want to cook, you need to do it outside.
How To Choose The Best Hiking Tent For You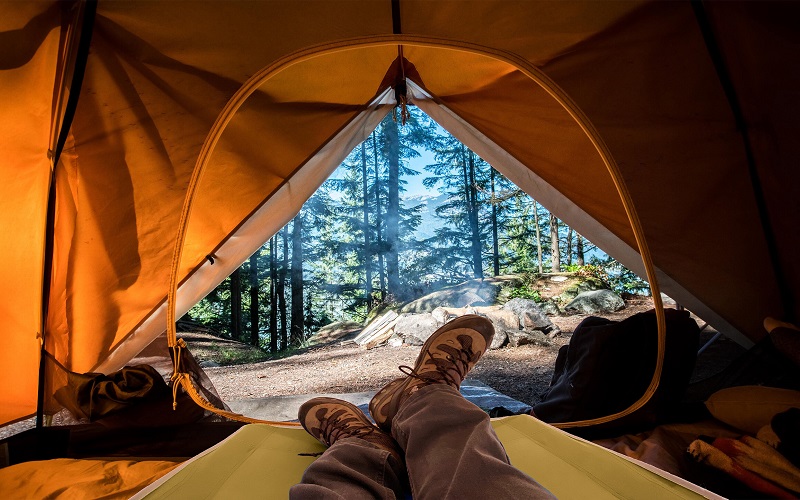 Now that you know what types of tents there are and the different materials they are made of, you'll want to take into consideration what kind of features you need.
WikiHow offers a great list of things you'll want to consider before purchasing your tent. For example, are you hiking alone?
If so, you'll only need a 1-person hiking tent. If you are hiking with a companion, you can find affordable two-person hiking tents that are lightweight, easy to pack and unpack, and offer protection from the elements.
Other features you'll want to consider include:
What time of year do you prefer to hike so you can choose the right tent for the weather?
How much weight are you willing to carry in your pack?
Your budget
Conclusion
Hiking is a fantastic way to get in touch with nature and find some inner peace.
When you decide to go hiking, it might be a good idea to bring along a hiking tent just in case it gets dark and you are uncertain of the way back, you love the area you've hiked to and want to stay the night, or you get caught in a sudden storm.
We hope that we've provided you with some insight on what to look for when choosing the hiking tent that is right for you and your needs!
Resources: