As one of America's and the world's favourite pastimes, hiking has long enjoyed popularity among people of all ages and backgrounds.
But what exactly is hiking? Hiking involves the act of getting out into nature and experiencing the wilderness with just your two feet to carry you, and it gives many people the sense of freedom and adventure they so long for during their daily grind.
While hiking is a hobby for many, it's also an extremely serious business that requires a lot of preparation and planning to ensure it's done safely.
With so many threats to your health and wellbeing, from sanitation issues to wildlife dangers, good hikers understand just how important it is to know all of the facts before you head off on the trail.
The Benefits Of Hiking
With hiking being one of America's most favourite pastimes, it's not surprising to learn that over 34 million of us enjoyed hiking trails in this country during 2014.
This data collected by the American Hiking Society has proven just how beneficial a good hike can be, with a range of advantages for your health and wellbeing.
Improves your brain function: Numerous studies have shown just how beneficial it can be to walk in the wilderness, with specific results linking just 90 minutes of outdoor activity such as hiking to a 50% increase in your brain activity and ability to solve creative problems.
Reduces the rate of heart disease, hypertension, and diabetes: Physical activity such as hiking is responsible for a decrease in heart disease, hypertension, and diabetes among children and adults. As just 60 minutes of hiking can burn 500 calories, it's also a handy weight-loss tool.
Decreases anxiety: As walking releases adrenaline and endorphins in your body, a thorough hike is one of the most effective ways to reduce anxiety and improve your overall mood.
Strengthens your bones: Hiking can actually reverse the effects of osteoporosis and arthritis in your body and prevent them from occurring. As your bone density increases and strengthens, you're less likely to have issues further down the line with any of these ailments.
It helps you bond with others. The act of being in the wilderness with others, especially our family members, can have incredible benefits for our relationships with them. Sharing in the outdoors and physical activity can help us form bonds with others as we experience new activities together.
Provides a fun and free activity: When you're feeling bored or looking for entertainment, taking a hike is a free and simple way to get some enjoyment out of life. Whether you want to enjoy an afternoon trail or spend a few days exploring the wilderness, you'll have a lot of fun doing so.
Teach you about nature: There's no better way to learn about animal and plant species than by experiencing them firsthand, which is what hiking can do for you. Hiking is ideal for teaching children about the environment and the importance of conservation in a fun way that will keep them engaged.
No matter your reasons for hiking, you'll be able to benefit from all of these great advantages and more.
For something free and easy to do, there's no reason not to start planning your next adventure in the outdoors, so you too can reap the benefits of fresh air and exercise.
Finding A Hiking Trail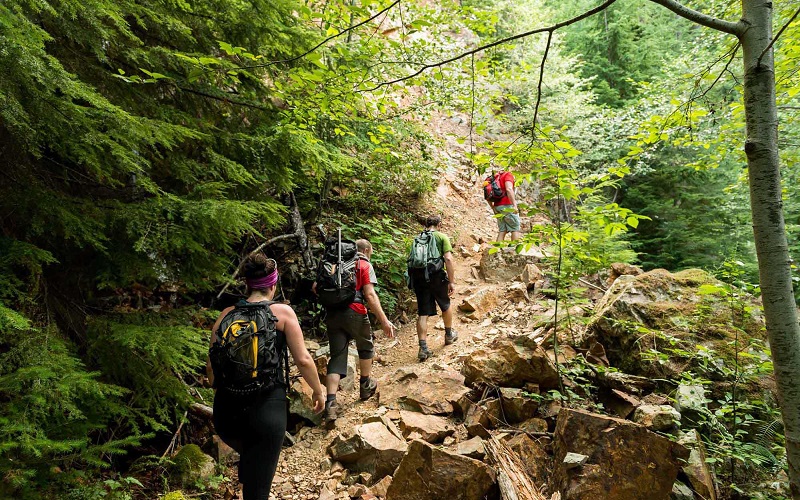 Before packing any of the hiking equipment, you'll need to know exactly where you're going.
Hiking trails can vary differently around the world, so it's a matter of starting with your own experience level and working from there.
Always begin small with hikes until you learn about your surroundings and just how much your body is capable of before you attempt something more challenging.
Once you know how long you have to commit to a hike and what your skill level is, all you need to do is choose the surroundings you'd most like to see.
Whether it's something rocky with streams, meadows, or tall mountains, there are plenty of amazing trails available to suit every landscape.
Modern websites such as All Trails have proven an invaluable asset to hikers, as you simply put in your location and it shows you a range of trails near you.
With reviews from other hikers, you're able to get real-life advice on exactly what they're like, so you know what to expect.
Before you head out on any trails, though, you should notify at least one person of your intended route.
A smart hiker never takes a chance with a spur-of-the moment hike without careful planning first. If you were to become lost or stuck, someone should always be aware of your location.
The Must-Have Hiking Clothes
The first thing you'll need before you set off on a hike is comfortable and durable hiking clothes. Some people assume that you can wear your regular clothes and shoes on a hike and have them do just fine, but considering the conditions you're travelling in and how long you're planning to be active, you'll need to invest in the right hiking gear.
Hiking boots are a necessity, especially with mountain hiking, designed to withstand long periods of walking over rugged terrain and special conditions such as water and sweat.
Depending on your style of hiking, whether it's mountaineering or ultralight, there's a specially designed boot for you.
Your clothing choices are just as important, as you'll need to suit the climate and stay comfortable, but also be prepared for unexpected weather conditions.
Many hikers prefer to layer their clothing, provided it's breathable and light, so they can add or subtract items as they wish.
Synthetic and wool materials are best for this, but be sure to avoid cotton altogether.
Extras such as gloves and goggles should be considered, depending on the weather conditions.
Provided you have boots, a base layer, and an extra layer of insulation, the rest may not be necessary and will be determined by the climate.
Hiking Essentials For Your Trip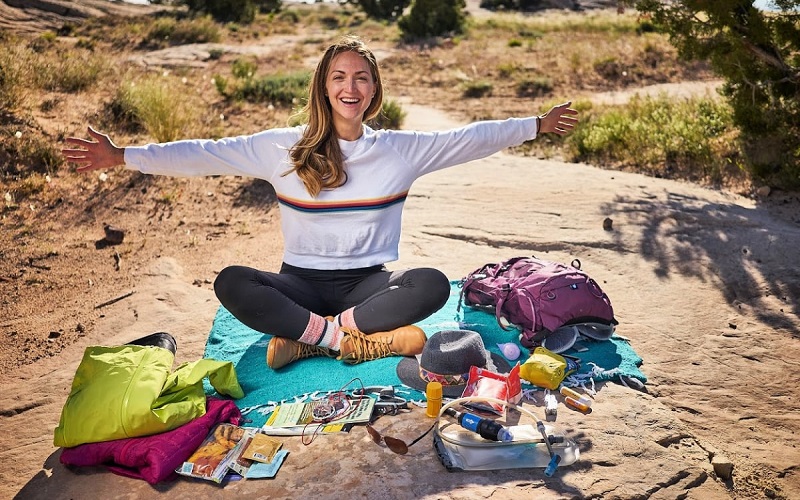 Besides the all-important backpack, shelter, and sleeping devices, there are some other must-have hiking essentials to take along on your trip. Even if you're only planning a single-day trip, these are an absolute necessity for every hiker.
Hiking Essentials
Navigation devices: Although many hikers prefer the modern convenience of a GPS system, you should always have a compass and map with you at all times as well.
Insect repellant: Apply insect repellant before you head off, and be sure to continue the application throughout your hike.
First aid supplies: A complete first aid kit is required for hiking so that you can be covered for any injury or illness that might strike.
Flashlight: Even if you aren't planning on being away at night, you never know when you may become lost or stranded and need lighting for emergency situations.
Insulation: Just one extra layer of clothing can save your life in an emergency, so make sure you're prepared for the colder weather in case you become stranded and temperatures drop.
Fire: Both matches and a fire starter should be carried at all times, as they can save your life by providing a means to cook food and keep you warm in an emergency.
Sun protection: Even if it isn't sunny out, the UV rays from the sun can still be extremely damaging. Keep protected with a hat, long clothing, and sunscreen at all times.
Finding The Best Hiking Backpack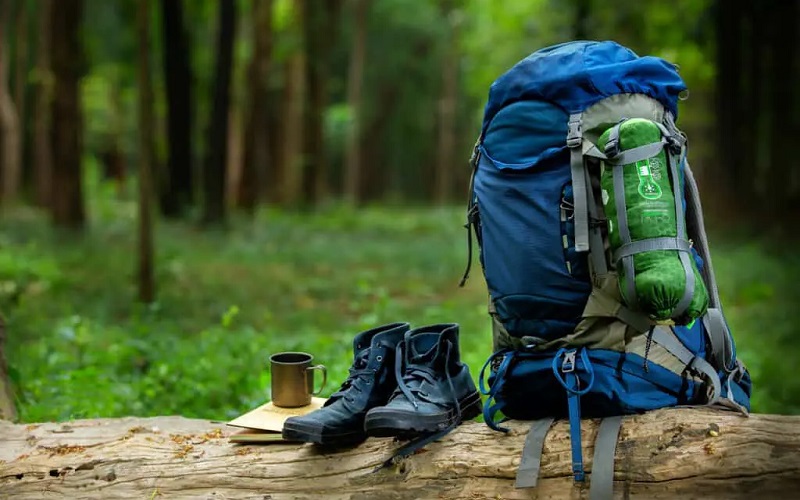 A hiker's backpack is probably their most prized possession, as it holds all of their valuable supplies.
Choosing the best hiking backpack is a matter of personal preference, though, as each hiker's needs are as unique as their personalities.
The three main areas to consider when choosing a backpack are the size, fit, and any extra features.
The size relates to how much you want to carry within, and these can generally be grouped by how long you intend to hike for. A single-day hike requires 30–50 litres, whereas something that takes a week or longer might need 70 litres or more.
The fit of your backpack will depend on your torso length, and these need to be fitted perfectly.
With the wrong size, you're likely to feel unstable on the trail, which can lead to an uncomfortable hike and a range of injuries too.
Extra features in your hiking backpack will depend on what you consider important, so everything from a hydration pack to extra ventilation can be totally customised to your needs.
You should always opt for as much light as possible without compromising on quality, so that you can travel with freedom and truly experience life in the wilderness.
Choosing Shelter For Your Hike
Even if you're planning a day hike and don't intend to camp overnight, you should at least pack some emergency shelter in your backpack.
As SAR staff spend 40 percent of their time rescuing lost hikers, you never know when you might be stuck in the outdoors.
The most popular shelter for a hiker is a tarp and tent, but these can be adjusted depending on how lightly you want to pack.
Provided you have adequate shelter from the elements, the rest will come down to your desired comfort levels.
Tents for hiking can be purchased in terms of how many people fit inside. Most solo campers are happy with a one-man tent, but for extra room for your supplies, sometimes a lightweight two-person tent is best.
Your tent should be light and easy to assemble, so you don't need to spend hours each day setting up a campsite.
Just like your hiking backpack, there are a number of additional features you might want to consider.
Some tents have ventilation systems and others have space for electronics and cords to come through, so it all depends on what will help you reach your optimal comfort levels.
The Sleeping Bag VS Hammock Debate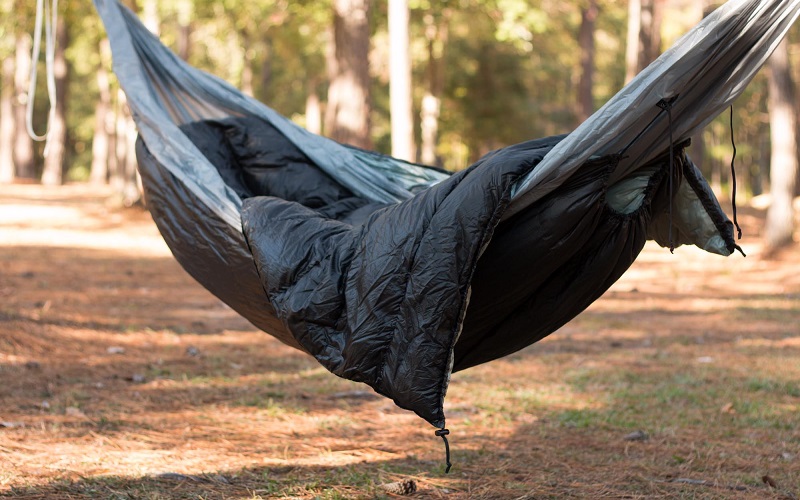 In addition to your shelter choice, you'll need to decide where you want to sleep. Considering this rest time is when you'll regain energy for the following day, it's best not to sleep on the ground entirely.
While sleeping bags have long been a popular choice, the recent trend of camping hammocks is changing things somewhat.
With a camping hammock, you can also get rid of the traditional tent and sleep with just a tarp over the top, so they're ideal for ultralight enthusiasts as well.
Depending on weather conditions, you may need to add extra layers for warmth or use a sleeping bag pad.
These are especially ideal for tough terrain, as they protect the body from lumpy or harsh ground underneath.
Whichever option you decide on, it's best to find the lighter option that offers comfort. Ensure that you test out a sleeping bag or hammock before you purchase it.
get a good idea of how much comfort it can actually offer, though, as this isn't something you want to discover while you're out on a hike and it's too late to change.
The Best Hiking Food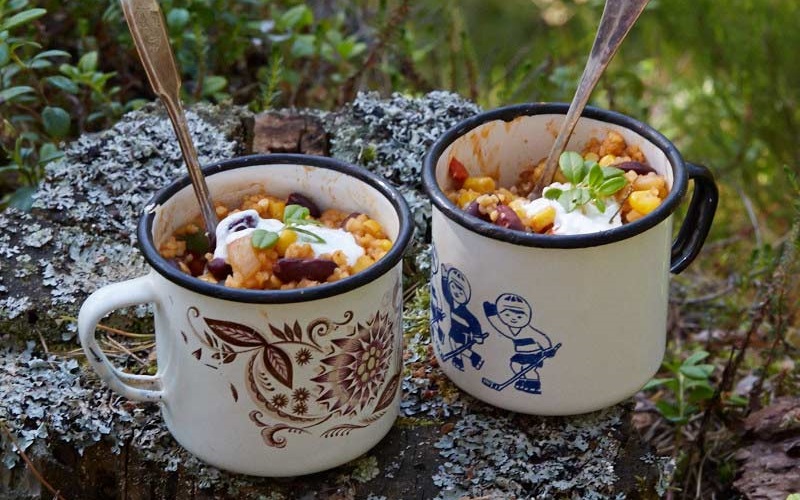 Whether you want to buy freeze-dried and pre-packaged food or create your own, you should always have enough to meet your caloric needs.
Use a free metabolic rate calculator so you can figure out your specific requirements for a hike, ensuring you have enough energy for the journey.
Always select foods that offer energy in short bursts during the day so that you can snack along the trail.
For meals, you'll want to load up on carbohydrates and protein so that this can be used the following day for optimum energy.
Just as important as your nutrition is hydration, and not having enough water on hand is a huge danger for hikers.
Ensure that you've calculated how much water is adequate for your journey, taking into consideration things like the weather, your exertion level, and whether there will be supplies along the way.
Hiking Safety And How To Protect Yourself
Being in the wilderness comes with extra precautions that we need to take, and hiking safety is just as important as packing the right foods and wearing sensible clothing.
With everything from sanitation to spiders posing a threat, there are a few precautions you should take on your hike.
Hiking Dangers
Hygiene and sanitation: When outdoors without plumbing and irrigation, you need to be extra vigilant to stay clean. Although it's good to have hand sanitizer close by, it's more beneficial to wash your hands with soap and water when you can. Always take bathroom breaks away from the trail and clean up any waste you leave behind. Finally, drink only clean and filtered water to avoid parasites and bacteria.
Beware of wildlife: The American wilderness is full of surprises with insects and animals that can cause harm and be potentially fatal. Understand your surroundings and research possible threats, such as spiders and snakes, that may inhabit the area.
Weather conditions: Keep an eye on the weather for at least one week before a hike and take note of any drastic changes. Whether it's dehydration from heat or hypothermia from the unexpected cold, a sudden change in weather can spell disaster for an unprepared hiker.
Communication: Before you leave for a hike, communicate your plans with someone and leave them with a map of your intended route. If you need emergency assistance while hiking, ensure you have communication options such as mirrors, lights for signals, and a cell phone.
Post-hike safety: After your hike, check your body completely for ticks and other hidden insects. If you feel extra fatigued or injured in a certain area, have a doctor perform a check to make sure that you haven't damaged any bones or ligaments.
Hiking With Kids
For many families, hiking is a group pastime that everyone can enjoy together. However, bringing your kids along on a hike can open up a whole new range of issues to consider.
As much as they may enjoy a hike, children have limited attention spans compared to adults, so you need to keep them entertained on the trip.
There are some great kid-friendly trails all across the country, so put websites such as All Trails to use and find ones that will suit all age groups.
You want to ensure your kids are safe at all times and hiking only to their fitness level, so never assume they can tackle the tougher trails as easily as an adult.
The best way to get kids engaged on a hike is to incorporate a few fun activities along the way.
Games such as Follow the Leader or an organised treasure hunt will keep them happy, as will regular breaks to allow them to eat and regain their strength.
By hiking with kids, you're ensuring that you pass down the many benefits of this activity in the hopes that they will continue them on their own someday.
Bringing your children out into nature is the best way to teach them about wildlife and share important messages about the conservation of our planet.
Winter Hiking And How To Be Safe
Hiking during the colder months can come with its own set of precautions, so if you're planning on winter hiking, you should be adequately prepared.
Here are a few things to consider before you head off on a trail during the cold season.
Winter Hiking
Extra planning: Ensure you have done adequate research into the area you tend to visit, and keep a careful eye on the weather conditions. Leave a map and plans with someone so they know where to find you, and never hike alone during the colder months.
Stay dry and warm: While you might be tempted to explore through frozen lakes and other wet conditions, you need to keep as dry as possible. At night, use fires, thermal clothing, and sleeping bag liners to give you extra warmth against the cold.
Layers are essential. If you're planning a hike in the winter, you'll need a base, middle, and outer layer at the very minimum. Use other equipment, such as goggles and gloves, to protect your extremities from the harsh conditions and avoid hypothermia.
Caring For Your Surroundings
After all of your preparation for how you can protect yourself and your loved ones on a hike, it's just as important to protect the environment too.
The Wilderness Society teaches the "Leave No Trace" guideline to hikers, meaning that you should leave the outdoors exactly as you would like to find them.
Be sure to camp on durable surfaces and clean up after yourself carefully so that you can protect the wilderness for others to enjoy now and into the future.
A little bit of preparation now means saving the environment from a lot of damage in the future.
By being prepared with a plan and having the right supplies, you can limit any potential risks associated with camping.
Just a little bit of forward planning can literally save your life in these situations, so even the most experienced hikers and campers need to be organised.
Resources: